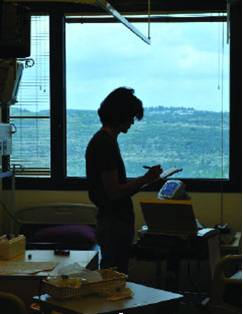 The path from the laboratory to a patient's bedside got longer and tougher to navigate these past 20 years. Today, it can move from cells drawn from human embryos to an injection that saves eyesight; from umbilical cord blood cells to treatment for cancer and metabolic diseases; and from manipulation of antibodies to the defeat of autoimmune disorders.
With biology evolving into biotechnology, front line medical research has quit the departmental hospital labs. Microscopes and test tubes have been pushed aside by a rush of new technologies: centrifuges, electron microscopes, cryopreservation, chromatography, radioimmunoassay and Good Manufacturing Practice Clean Rooms. The new disciplines of molecular biology and immunochemistry have revolutionized science.
What does this mean for physicians who care for patients while looking for new ways to treat them? At the Hadassah–Hebrew University Medical Center, it means a state-of-the-art biotechnology park a short walk from their wards and clinics.
"Physician-researchers are practical people who know what [research] questions to ask, and are very focused on applications at the bedside," says Dr. Shlomo Mor-Yosef, director general of the Hadassah Medical Organization. "That's why they repeatedly come up with new solutions, and that's why all research centers at our bio park are headed by physicians."
Hadassah's Jerusalem Bio Park opened in fall 2009 as Israel's sole hospital-affiliated biotech park and one of only 10 biotech parks worldwide to operate from a medical campus. It is the headquarters, and vision, of Hadassah's technology transfer company, Hadasit, and was constructed as a build-operate-transfer project within the Ein Kerem medical campus, on land Hadassah provided at no cost.
"Hadassah contributes 40 percent of all hospital biomedical research in Israel and is the country's pioneer in hospital-based translational [lab-to-bedside] research," says Dr. Einat Zisman, Hadasit CEO and a pharmacist and immunologist with an M.B.A. from the University of Southern California in Los Angeles. "Last year, more than 240 trial and outcome research projects were completed at Hadassah. Our bio park is a one-stop shop, providing not only research facilities and access to Hadassah's rich medical infrastructure but also business advice and investment guidance."
Physicians, she says, do not necessarily know how to turn research into a product, or raise money on the stock market. Hadasit helps them work from a preliminary idea, through clinical testing and product licensing, all the way to start-ups and full-fledged companies.
Created almost 25 years ago to promote and commercialize Hadassah's vast intellectual property, Hadasit today has a portfolio of over 200 patent-families for therapeutics, diagnostics and medical devices, half of them licensed to companies that were once Hadassah start-ups. PerioChip is one example. It is the first biodegradable system for removing plaque and tartar deposits in adult gum disease, in the form of a tiny chip inserted directly into infected gum. Another is Travelan, an over-the-counter preventive that substantially reduces risk of travelers' diarrhea. Doxil is a third: A chemotherapy agent developed jointly with the Hebrew University of Jerusalem and used to treat leukemias, Hodgkin's lymphoma, multiple myeloma and cancers of the bladder, breast, stomach, lung, ovaries and thyroid, Doxil is licensed to Johnson & Johnson and, in 2009, recorded global sales of $430 million.
While potential profits are enormous, investment in development is correspondingly steep. Finance remains the major and ongoing bottleneck of biotech in Israel. Five years ago, Hadasit spun off nine of its companies into a publicly owned subsidiary. Hadasit Bio-Holdings (HBL) packages the intellectual property of its now eight companies–appoints a business-minded CEO for each, develops a business plan and establishes goals. It also helps find development and expansion funding. Floated on the Tel Aviv Stock Exchange via an initial public offering in January 2006, HBL has raised over $30 million from public investors, an amount significantly leveraged by using government and research grants.
"Our role is to help turn excellent science into real, revenue-generating business," says Ophir Shahaf, CEO of HBL. "No other company trading on the stock market has such excellent raw material, infrastructure and innovation."
He cites the HBL portfolio company Cell Cure Neurosciences. Cell Cure created OpRegen, a therapy expected to halt and perhaps reverse age-related macular degeneration, the leading cause of blindness among over-fifties in the Western world. Clinical trials, in which OpRegen will be injected into the eyes of patients to replace damaged and dying retinal cells, are being planned by Cell Cure's founders–Hadassah Drs. Benjamin Reubinoff, director of the Human Embryonic Research Center, and Eyal Banim, head of the Center for Retinal and Macular Degeneration.
"Age-related macular degeneration affects an estimated 30 million people, and there has been no effective way to stop its degenerative process," says Dr. Reubinoff. "We expect OpRegen to change that." OpRegen, made from stem cells, will be one of Hadassah's first clinical applications of human embryonic stem cells, and probably one of the first such applications in the world.
The development and commercialization of OpRegen are financed by an exclusive license option agreement between Cell Cure, HBL, BioTime and Teva Pharmaceutical, signed in October 2010, in what Shahaf describes as a "classic collaboration model. It combines science from Hadassah, funding from a United States company [BioTime] and commercialization power from Teva." Together, the partners are investing $7.1 million in the development of OpRegen, a sobering reminder of biotech's extreme costs.
Scaling up biotech research and development to early production and beyond is not only high cost but also high risk, notes Dr. Zisman. "Only one in 250 compounds makes it from preclinical development to market," she says, "and can take seven years and $500 million doing so."
Investment is particularly scarce during the phase she calls "the Valley of Death"–the gap between very early investment (usually academic research funds) and the easier-to-obtain investment for clinical trials that, although more costly, are a safer bet than early stage technologies. One of Hadasit's major emphases is helping researchers find capital to bridge this chasm, and the floating of HBL on the Tel Aviv Stock Exchange gave the public direct access to investing in a cluster of Hadassah-generated IPOs.
Cell Cure is one of several Hadassah-based companies working on the medical frontier of stem cell therapy products. Gamida Cell, partnered with Hadasit, Teva and the California-based biotech company Amgen, has developed an alternative to bone marrow transplants based on umbilical cord blood stem cells.
Designed for patients with advanced blood cancers, autoimmune diseases, metabolic disorders and the hematological disease neutropenia, Gamida's lead product, StemEx, was awarded Fast Track Designation by the United States Food and Drug Administration in mid-2010 and is now completing pivotal phase III clinical trials in Israel, Italy, Hungary, Spain and the United States. The commercial launch of StemEx's first therapy is scheduled for 2012.
Hadassah also collaborates in stem cell-based treatments developed outside its medical center. An example is a therapy created by BrainStorm Cell Therapeutics of Petah Tikva, which uses adult stem cells from bone marrow extracted from a patient's pelvis. Hadassah neurologists Dimitrios Karussis and Tamir Ben-Hur are retrieving and preparing these cells for a phase I clinical study on 24 patients with amyotrophic lateral sclerosis.
Autoimmune diseases are the targets of ProtAb, created by Dr. Yaakov Naparstek, an internist and Hadassah chairman of medicine. Part of the HBL portfolio, the company's first product is Proximab, for patients with rheumatoid arthritis and inflammatory bowel disease. Based on an antibody that stimulates molecules that suppress inflammation, it is the opposite of current medications that suppress molecules that stimulate inflammation. Still a year from clinical trials, Proximab has attracted investment from the Pontifax Venture Capital Fund and Clal Biotechnology Industries, both leading Israeli investors in biotech.
A different approach to autoimmune and inflammatory disease is taken by Enlivex Therapeutics, an HBL company working in cell immunotherapy. It is headed by Hadassah internist Dr. Dror Mevorach, who uses certain cells to trigger the body's mechanisms that regulate inflammation and autoimmunity. This is a potential solution for graft-vs.-host disease, the lethal rejection process that can follow organ transplantation. Dr. Mevorach has developed an injection capable of suppressing the immune reaction or creating immune tolerance. It is currently in phase I clinical trials.
Hadassah once took pride in every department having an attached research lab, says Dr. Mor-Yosef. "Today, that pride is vested in our…bio park. We believe it will not only advance research but also catalyze Jerusalem's transformation from a scientific research hub to an economic engine for bioscience technologies."