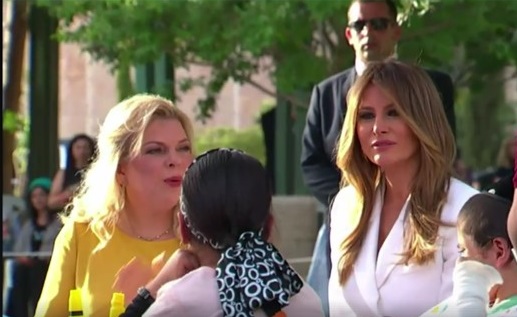 When Israel wants to show the quality of its medicine, the Hadassah Hospital is chosen for the quality of its doctors, the advances in medical research, and the coexistence of a very heterogeneous population who live in conditions of peace.
Melania Trump, First Lady of the United States, accompanied by Sara Natanyahu, wife of Benjamin Netanyahu, the Prime Minister of Israel, visited the Hadassah Hospital at Ein Kerem today. You can see the video of the visit below.
Welcomed by Ellen Hershkin, President of Hadassah; and Prof. Zeev Rotstein, Director General of the Hadassah Medical Center, Mrs. Trump was introduced to several Hadassah physicians and nurses, both Arab and Jewish.
Mrs. Trump and Mrs. Netanyahu then walked outside to the Hadassah Ein Kerem Hospital children's playground, where pediatric patients and nurses at Hadassah from diverse backgrounds were waiting to welcome them. On the way they past a bench in the playground that the Hadassah Hospital had dedicated to both First Ladies in honor of this special visit.
Mrs. Trump spoke to the children and presented them with gifts of games and books in a backpack with a special White House emblem. The children had made drawings for Mrs. Trump, and presented each first lady with a special album of drawings and photos they had made for them.
Mrs. Trump was particularly moved with the album she received, and thanked the children who had made it for her. The cover on the album said:
Dear Melania Trump, First Lady of the United States: The Hadassah Children want to dedicate this album to you.
To see the media coverage, go to
http://www.nbc-2.com/story/35488126/first-lady-melania-trump-visits-leading-israeli-hospital
First lady Melania Trump visits leading Israeli hospital – Daily News, May 22, 2017
First Lady Melania Trump Visits Leading Israeli Hospital – The New York Times, May 22, 2017
Melania and Sara meet children, physicians, nurses at Jerusalem hospital – The Jerusalem Post, May 23, 2017
First lady Melania Trump visits leading Israeli hospital – ABC News, May 22, 2017
First Lady Visits Israeli Hospital that Treats Both Arabs and Jews – CBNNews, May 22, 2017
First lady Melania Trump visits children at Israeli hospital – Chicago Tribune, May 22, 2017
Melania Trump and Sara Netanyahu Visit Hospital – USA Today, May 22, 2017