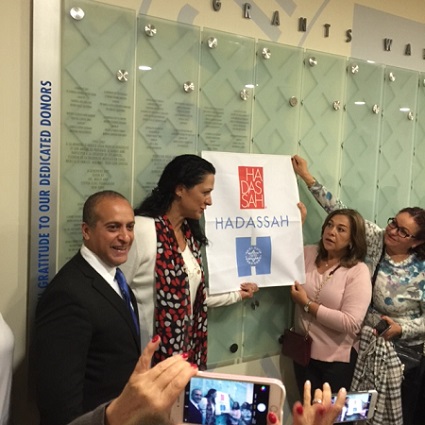 Led by Shukla Shrem, President of WIZO Mexico, sixty women from Mexico, many of them leaders of the Mexican Jewish Community, visited Hadassah as a part of the annual Mexican WIZO trip to Israel.
Jorge Diener, Senior Director of International Projects for Hadassah International welcomed them in the Panama Auditorium.  The group clapped with excitement as he told them about the Hadassah breakthrough in the treatment of ALS. Many knew of ALS patients in Mexico who might benefit from this new protocol in the future.
They were also moved to tears by Dvir Mussai, who told how he was injured by a landmine when he was 13 years old. Now at 26, Dvir is a father, but he still receives daily treatments at Hadassah and volunteers to help other victims of terrorism. (Click here to see Dvir's story).
The women then gathered in one of the Healing Gardens in the Sarah Wetsman Davidson Hospital Tower to learn about the needs of the hospital, and how they could make a difference. With pride they dedicated the plaque that recognizes the gift of one of their members, Rebeca Marcos.
They ended their visit with a tour of the famous Chagall windows, and learned that Chagall Project offers them the opportunity to have their name associated with one of the windows.