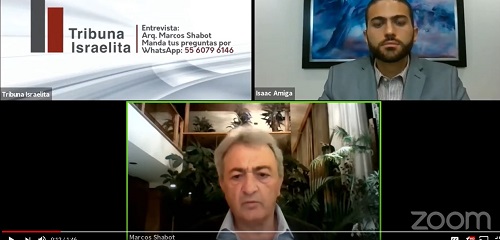 In the exclusive video interview below, recorded on June 7th, 2020, Marcos Shabot, President of the Central Committee of the Jewish Community of Mexico, thanks Hadassah for the help and advice they are providing during the Covid-19 crisis.
Marcos Shabot relates that he received a recommendation to hold a conference call with the Hadassah Hospital in Israel to find out how the Jewish Community in Mexico could learn more about how COVID-19 has affected Israel. Because the pandemic arrived in Mexico later than in other countries, they have had the opportunity to observe what had happened in other countries and learn from the experiences of others.
During the call, Jorge Diener, Associate Director of Hadassah International, drawing on his knowledge of the Mexican Jewish Community, recommended that the Central Committee pay particular attention to taking care of the elderly in the community as they are the most vulnerable. Living together in close quarters in facilities for the aged, they could suffer the most from this pandemic.
The close communication with Diener and specialists from the Hadassah Hospital who have been involved with treating and managing COVID-19 continue, with Hadassah experts giving Zoom talks on different ways in which COVID-19 impacts the community.
Shabot stated: "Our deepest appreciation to the Hadassah Hospital. We have never stopped being in communication with them.
Thank you, thank you all."
Watch the video to hear Marcos Shabot describe the Mexican Jewish Community's interaction with Hadassah in his own words. Subtitles are in English.