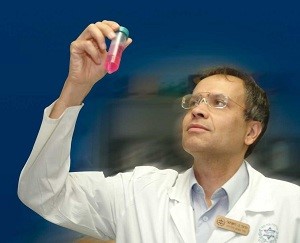 by Judy Siegel-Itzkovich
Could it be that microscopic human embryos five or six days old were meant to be the source of "spare parts" for adults and children suffering from chronic or degenerative diseases such as Parkinson's, type I diabetes, multiple sclerosis, spinal paralysis and coronary insufficiency? Lines of human embryonic stem cells (hESC), which were first derived in 1998, have not yet been transplanted into a single patient, but Prof. Benjamin Reubinoff – one of the world's leading hESC researchers – is optimistic that they will begin to fulfill their potential in a few short years.
Reubinoff, a senior physician in obstetrics and gynecology at the Hadassah University Medical Center in Jerusalem's Ein Kerem and head of Hadassah's Goldyne Savad Institute of Gene Therapy's Embryonic Stem Cell Research Center, became interested on hESCs through his work with infertile women, which involved the use ofin-vitro fertilization.
These primordial, pluripotent cells are in high demand as objects of research because of their ability to reproduce almost infinitely and differentiate into many, if not all, cell types of the body. Although numerous problems remain, they are viewed as a potential source for engineering human organs and tissue to replace defective, ageing and diseased ones.
FROM REUBINOFF'S tiny office, which lacks even a window, in the magnificent Charlotte Bloomberg Mother and Child Center, one would be hard put to realize that he has a major share in making Israel a world power in stem-cell research. A survey published in Stem Cells a year ago put Israeli researchers second after the US in absolute (not per capita) numbers of publications up to the end of 2005 – way ahead of the UK, Korea, China, Singapore, Australia, Sweden and Canada. Two of the four "best hESC papers" ever published in peer-reviewed journals – according to a ranking by the journal – were written by Reubinoff, with the others by Prof. Joseph Itskovitz-Eldor of the Technion-Israel Institute and Rambam Medical Center and Dr. Shulamit Levenberg of the Technion.
Reacting to the article, Reubinoff said: "I am very happy that Israel has such a prominent role in hESC. It is a big compliment to Israeli science, and we have great potential. Our prominence is due to the fact that we were pioneers in the field, there is a moral commitment to it and Judaism is so supportive."
US research, he noted, has been restricted because the Bush administration set limits on funding for such studies, allowing only existing lines to be experimented on and not permitting new embryos left over from in-vitrofertilization to be studied (and discarded). Anti-abortion activists who support the Republican Party have repeatedly defeated efforts to allow unlimited research on hESC.
But as Halacha does not regard unimplanted human embryos a few days old as living beings and encourages medical research aimed at saving lives, the law that governs Israeli research in this field allows ethically appropriate and regulated studies with hESC and prohibits the performance of cloning for reproductive purposes.
"I think I can say now that in five years we will see the first clinical applications to treat neural and spinal cord injury. We stem-cell researchers have accomplished a great deal, and are getting much closer," he added.
Almost three years ago, Reubinoff, chairman of Hadassah's neurology department Prof. Tamir Ben-Hur and their Hadassah colleagues made headlines around the world when they become the first to show that hESCs can improve the functioning of rats with Parkinson's disease. The incurable and increasingly common disorder, the second (after Alzheimer's disease) most common degenerative neurological disease in Israel due to the aging of the population, Parkinson's prevents a region of the brain called substantia nigra, which produces the neurotransmitter dopamine, from functioning properly. As a result, the patient's muscles become rigid and he suffers from tremors, weakness and a bent-over posture that severely reduce normal day-to-day functioning. Drugs which turn into dopamine in the body lose their effectiveness over time.
Reubinoff also heads a start-up company named Cell Cure Neurosciences, founded to spur work in neurological disease, which competes for grants against more than 70 around the world. It recently received $660,000 from the Michael J. Fox Foundation towards finding a cure for Parkinson's, which globally affects more than six million people. Cellcure is jointly owned by ES Cell International of Singapore and Hadasit Bio-Holdings, the publicly traded subsidiary of Hadasit, the corporation that handles Hadassah's intellectual property.
REUBINOFF'S TEAM created Parkinson's disease in rodents by destroying that section of the brain that produces dopamine. Using human embryonic stem cell lines that Reubinoff had originally prepared at Monash University in Melbourne, they created cultures of primitive neurons in the lab and transplanted them to the damaged sections of the rats' brains. After a three-month follow up, it was clear that some – but not all – of the primitive neurons had "ripened" into fully fledged dopamine-producing nerves. Since not all matured, the improvement in the rats' functioning was not complete. Since then, the team has been working to make neurons ripen before transplant to increase the number of dopaminergic neurons in the transplanted tissue and fully repair the damage. Reubinoff hopes to successfully transplant converted dopamine-producing neurons into the human body, enabling the body to resume producing its own neurotransmitter.
Since this stem cell breakthrough, it seems there have not been many more, at least published in the general press. But Reubinoff asserted that there hasn't been a decline in the number of publications during the past two or three years. "As we get closer to clinical trials, the news will arouse more public interest. But we need to continually advance research, and especially need financial support. In the US, despite the ban on federal funds, billions of dollars are being invested. We will need more money in Israel if we want to continue to be leaders in the field; without it, we may find it harder to preserve our leadership position. We can't remain dependent on foreign grants and donations."
The Savad Center in Ein Kerem now employs 30 senior researchers, technicians and students who work on hESCs. "We have top-quality equipment, purchased with money from grants and foreign donations," he told The Jerusalem Post. Its major objective is to develop the technologies that will eventually allow the utilization of hESCs for transplantation and gene therapy. It also aims to stimulate and support hESC research activity in Hadassah and other Israeli institutions.
Its scientists are working to develop cell lines suitable for clinical trials; improve the technology of stem cell expansion to create large cultures suitable for clinical trials; develop pure populations of differentiated cells; analyze the function of differentiated cells in animal models of diseases; develop genetically modified cells for gene therapy; resolve safety issues; and overcome the obstacle of immuno-rejection.
"We bought a device to separate cells, a very sophisticated microscope and a machine for the analysis of gene expression. The equipment was funded by a Jewish foundation called the Legacy Heritage Foundation, which realizes the importance of stem-cell research and has also donated to the Hebrew University, the Weizmann Institute, the Technion and Tel Aviv University. The foundation has also given money to the Israel Stem Cell Foundation, and every year we do an international conference in Israel."
The equipment, he continued, will enable the staff to perform large-scale screening of molecules for toxic effects and therapeutic potential. "For example, we will create nerve cells and test many molecules to see if they help nerve cells survive and function. This use of hESC for screening is very important and its applications are not far off. Large companies are going into it, as it will help develop drugs for specific diseases. The next field for the use of hESC is to model diseases."
Although there are national banks of hESCs in the US, England and Spain, Israel – despite its amazing prominence in the field – lacks one. Reubinoff said there should be a national depository of embryonic stem cells produced in Israel that would serve as a national resource in Israel and worldwide. "It would cost a few million shekels, and we hope to receive state funding or recruit a donation. The problem," said Reubinoff, "is not that it would take a lot of room but in the need for infrastructure and manpower to maintain and supply the frozen hESCs. We have about 20 cell lines here, at HU and the Technion, but no national bank. Many countries are going to establish hESC banks, but Israel hasn't. We should have an Israeli bank that will be recognized around the world and supply Israeli lines to researchers all over the world. It would be a national resource!" the Hadassah expert added.
Stem cells have to be of very high quality for use in humans. "They must be highly sterile, clean of viruses and prions [infectious agents composed only of protein that can cause a number of diseases such as "mad cow disease"], and well monitored. We are fortunate to have in Hadassah a Good Manufacturing Process-approved research center. This infrastructure, which does not exist in many hospitals in the world, together with our IVF units, serves as a platform to develop new hESC lines that will serve as a starting material for the development of various types of cells for future transplantation therapy."
Asked about the possibility that rapidly dividing stem cells could theoretically introduce cancer into the recipient, Reubinoff said: "There is a danger of cancer. We are starting a project focusing on the timing of hESC transplants. If not ripe enough when transplanted into animals, there have been tumors, but we believe we will be able to overcome this with research. Obviously, a cancer risk must be ruled out before we do any human transplantation."
With the Bush Administration due to leave office in a year, Reubinoff believes that a new US administration, especially a Democratic one, will eliminate the federal ban on funding and give stem-cell research a shot in the arm.