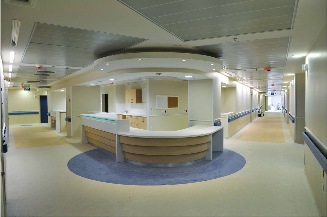 March 19, 2012 will mark moving-in day for the Hadassah University Medical Center's new 19-story inpatient facility—the Sarah Wetsman Davidson Hospital Tower.
"The tower looks absolutely majestic," commented a recent visitor from abroad. "Its triangular shapes shine in the sunlight. The eye-catching tall pillars of Jerusalem stone, which give a hint as to what the main entrance will look like, make one think of a castle rather than a hospital. The inside hallways, designed in a decor of lively blue and white, seem to echo the colors of the country."
She added: "I felt proud that our brilliant physicians and nurses will have a facility to match the top-quality of their medical care."
The first patients to be moved in will be from the Department of Urology. By May 7, eight departments' patients will be housed in the tower: Orthopedics, followed by Vascular Surgery, General Surgery A, General Surgery B, Gynecology, ENT, and Plastic and Maxillo-Facial Surgery.
"One can feel the tangible sense of excitement and anticipation as final preparations are being carried out by hundreds of people at an energetic pace," relates Ron Krumer, Director of Hadassah's External Relations.
Join the excitement of the countdown to moving-in day.