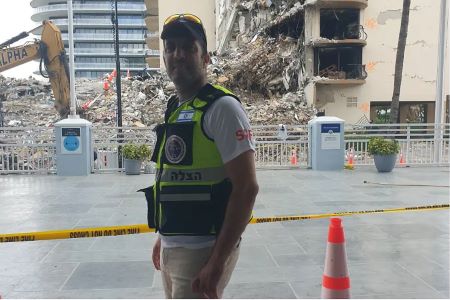 Excerpted from Barbara Sofer's December 30, 2021 column in The Jerusalem Post
A perfect day— that's what Dvir Dimri, 37, is thinking about his family trip to the Kinneret. He, and his wife, Adi, kayaked and played and swam with their six children in the balmy water, relaxing on the shores of the Sea of Galilee's Green Beach.
Dimri, a CEO of a real estate investment company and a volunteer driver for Magen David Adom in Efrat, thinks back to a different memorable visit to the Kinneret almost exactly six years earlier. They were on home leave in the middle of a four-year stint as Jewish Agency emissaries to Chicago where he and Adi taught in Skokie's Hillel Torah North Suburban Day School. His phone rang. His infantry reserve unit wanted him to know they were heading to Gaza, but they understood that he was in Chicago. "No," said Dimri. "I'm in Israel." He left Adi at the beach with the children, and—like two of his mobilized brothers—served in Operation Protective Edge. Amid the fighting, a giant package of goodies arrived from Chicago.
Now, on this sunny, perfect day, as they pack up their blankets and towels to spend Shabbat in a rental apartment in Safed, Dimri asks Adi if she would mind if he takes a short solo swim.
He dives in, reaching the marker for permissible swimming. So beautiful. Then he looks up and sees to his horror that a large red speedboat is racing toward him. Seconds later it crashes into his body. He can't move his arms but finds he can move his legs and he kicks, kicks, kicks for his life.
Dr. Arie Chetboun is having Shabbat dinner with his wife and four children at his sister's home in Modi'in when his phone rings. Chetboun, who specializes in repairing arms and hands at Hadassah Hospital Ein Kerem, says, "I was told a seriously injured young man was on his way to the hospital, but you can never be sure how serious it is until you see for yourself. I left immediately."
"I remember thinking, 'He's too young to lose his arm.' It's more complicated to reconstruct the blood vessels, the nerves, the bones, the skin. In addition, there were propeller parts and contaminated water in the wounds."
For seven hours Dr. Chetboun and his team build back Dimri's arm. "We did whatever we could, but the results are up to the Creator of the World."
And so Dvir Dimri pushes on, through two additional surgeries and months of sometimes excruciating rehab at the Hadassah Hospital Mount Scopus Rehabilitation Center.
He regains most of the use of his arm.
When the call comes to him last June 27 requesting Dimri for the Israeli medical-relief agency SSF-Rescuers Without Borders mission to Florida, he doesn't hesitate. Three days earlier the Champlain Towers South building collapsed in Surfside, trapping many of the residents. With his team's experience, they will join the search and digging, and if needed, help with the sanctification of the dead, and pray together with the community.
"Just as the Jewish community of Chicago was with me when I was fighting in Gaza, I wanted to show that I was with our brethren in America in this crisis. Kol yisrael arevim ze le ze, we're all responsible for each other. We're all family."
Read the full column in The Jerusalem Post.
Main pic caption: Dvir Dimri at the site of the Surfside collapse