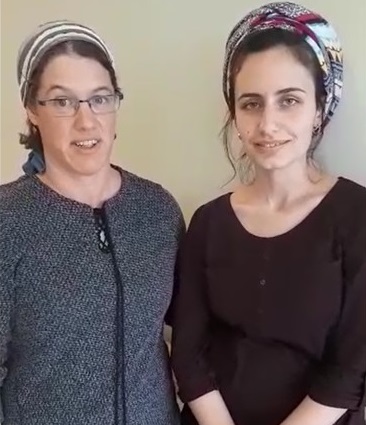 A terrorist bashed his head with a large boulder. As he struggled with the terrorist, Naveh Rotem saw his five-month old daughter's face before him.
His parents and wife Gal were with Nevah Rotem today as he was preparing to go home for a week of rest with his wife Gal and their baby daughter in Jerusalem before undergoing additional surgery and follow up treatment. His family wanted to thank Hadassah.
Rotem, aged 22, is a Haredi (extremely religious) soldier serving in the Netzach Yehuda army brigade. He was injured on Friday, December 14th while stationed at a military post at Beit El, near Jerusalem.
He was taken to the Hadassah Hospital at Ein Kerem in a life-threatening condition, unconscious and hooked up to a ventilator. Rotem underwent surgery with two surgical teams: the neurosurgery team and the oral and maxillofacial surgery (OMS) team to correct his facial and head injuries.
Hospitalized in the Sarah Wetsman Davidson Hospital Tower, he was treated by multiple medical experts over the past week. Neurosurgeon Dr. Iddo Paldor stated that he would be returning home "in good condition, strong and smiling."
Haredi men are not required to serve in the Israeli Army. When he volunteered, Rotem, the grandson of a Holocaust survivor, visited his grandmother's grave to tell her he would be fighting for the Jewish people.    
"We were so lucky to come to Hadassah with such professional treatment," said Naveh's father Mutti Rotem. His wife Osnat made a video to thank Hadassah. (See below).
Naveh's wife Gal is a second-year student in at the Hebrew University Hadassah School of Occupational Therapy. "I know about Hadassah," she said. "In our first week of school we learned how as early as 1947 the first occupational therapy course was established in the Hadassah Nursing School on Mount Scopus, with a class of 20 participants.
Please thank everyone who supports Hadassah for this amazing hospital. The neurosurgeons saved my husband and the whole staff is so caring and professional. Having a private room in the Davidson Tower made a huge difference for us to be together with Naveh."
Gal added that she had heard on the radio that there was a terror attack in Beit El, where Naveh was serving, and was relieved that no one called her. Then her mother-in-law Osnat called and said she was coming over and would be there in ten minutes. "They were the longest ten minutes of my life," she said. Two soldiers were with her mother-in-law, and they told her that Naveh was seriously wounded. "They had come to my house, but I was busy with the baby and didn't hear the doorbell. I thought, 'at least he's alive. It was very hard to see him with his terrible head injury."
Says Naveh, "I, too, want to thank Hadassah. By the way, my wife—a student in your school—has already warned me that she has a whole occupational therapy program she's going to try out on me!"
Naveh Rotem will be back in the hospital next week for continued treatment. He has many facial wounds and will need plastic surgery and maxiofacial surgery, but he's on his way!
Photo above: Osnat and Gal Rotem thank Hadassah for saving Naveh's life