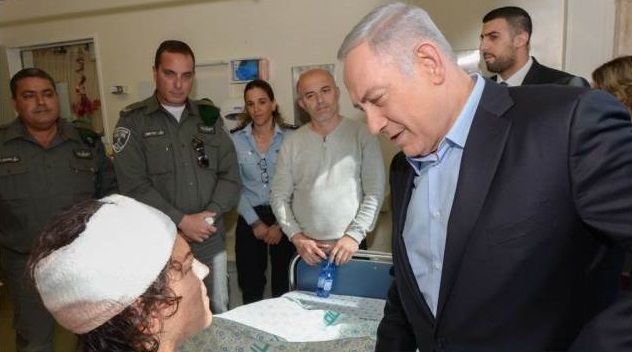 Prime Minister Benjamin Netanyahu visited wounded border policewoman Ravit Mirilashvili at Jerusalem's Hadassah Mount Scopus hospital on Wednesday, February 4th, describing her conduct during an attack in the city a day earlier as "heroic and resourceful."
On February 3, 2016, a team of Border police asked to see the identification papers of some Arab men who were acting suspiciously outside the Damascus Gate in Jerusalem's Old City. The three Palestinians shot and stabbed two of the policewomen.
Policewoman, Ravit Mirilashvili, was hospitalized at Hadassah Mount Scopus with serious injuries along with another officer, Hadar Cohen, 19, who suffered from multiple wounds to her upper body. A team of Hadassah doctors fought to save Cohen's life, but were not successful, and she died several hours later.
Read the full story http://www.timesofisrael.com/netanyahu-visits-wounded-border-policewoman/