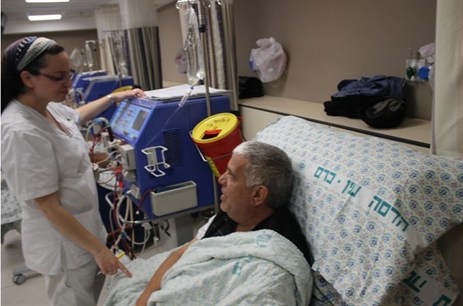 The Hadassah Medical Organization recently inaugurated its new cutting-edge dialysis unit at its Ein Kerem hospital campus.
Located in the Sarah Wetsman Davidson Hospital Tower and equipped with the most advanced technology, the new unit will provide treatment for over 80 dialysis patients in the greater Jerusalem area, which will amount to over 1,000 dialysis treatments monthly. The unit will provide services as a community clinic, in addition to functioning as an active hospital unit for treatment of acute kidney issues.
"Patients spend five hours per visit, three times each week," notes Head Nurse Ruthie Israeli. The tremendous improvement of the facilities and the technology will ultimately lead to a tremendous improvement in the medical treatment provided by our unit." Lab work can now be done on site with quick results, while patients enjoy the upgraded amenities of the Davidson Tower, including WiFi and Cable TV.
The inauguration of the new unit brings to a close the dialysis unit Hadassah operated out of Bikur Holim Hospital for the past 22 years.
"We are proud of our new unit, which matches the highest standards of dialysis units across the globe," comments Prof. Michal Dranitzky-Elhalel, head of Hadassah's Nephrology Unit. "Our professional medical staff are excited to utilize the newly built unit for the greater good of our patients."