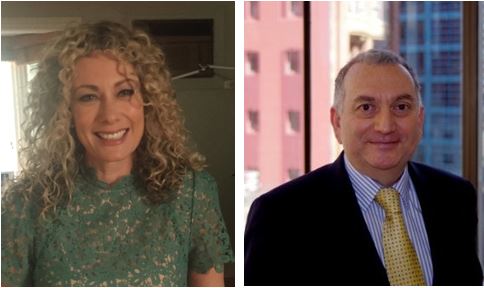 Hadassah Australia is expanding its operations with new appointments in Melbourne and Sydney.
Rachel Wundheiler (left) is the national Relationships and Communications Manager, based in the Melbourne office.  She will develop and oversee the organisation's marketing, communications and fundraising functions at a time of unprecedented growth for Hadassah Australia. Rachel has post-graduate qualifications in public relations and has worked in communications for organisations such as the ABC, Museum Victoria, Cancer Council Victoria and Temple Beth Israel. With her background in the not-for-profit sector, Rachel brings a passion to projects that are of social benefit.  Her focus initially will be on promoting the 2016 Oration and the 2017 Hadassah Australia International Conference on Trauma and Mental Health in Jerusalem.
Thierry Manor (right) has joined Hadassah Australia as NSW Manager.  He brings wide-ranging experience as a senior executive in sales and business development, strategy and consulting services in Australia and overseas. Thierry has worked with leading multinational IT vendors such as Digital Equipment Corporation (DEC), Sun Microsystems, InterSystems, iSoft and Cisco Systems.  Since 2003, Thierry has been running his own consulting company. He will be responsible for advancing various programs, engaging with the community including fundraising support and providing active support to the NSW Hadassah Committee.
Alissa Woolf, the Executive Director of Hadassah Australia, says the organisation is thrilled to have people of the calibre of Rachel and Thierry to help drive its vision for the future.
"With our focus on four key programs – Medical Clowns, the Goshen Project (an Israeli-wide community health program), the Jerusalem Crisis Intervention Center which provides support for children and adolescents suffering from post-traumatic stress disorder, and Project Rozana, a multi-faith program building bridges to peace – we're confident that Rachel and Thierry will play an important and strategic role in helping Hadassah Australia deliver its message about Hadassah Hospital in Jerusalem to the Australian community," Alissa said. "That message is not only about the work that the hospital does in Jerusalem, but its remarkable programs which make a difference both in Israel, and Australia. It is an exciting time for Hadassah Australia."
Further information:
Ron Finkel – 0411 282 020 and rfinkel@hadassah.org
Alissa Woolf – (03) 9272 5600, 0418 137 017 and awoolf@hadassah.org