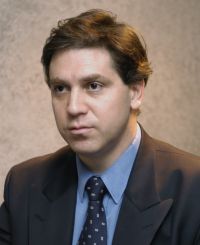 Interim results from Israel's BrainStorm Cell Therapeutics' Phase IIa stem cell clinical trial, conducted at the Hadassah Medical Center for the treatment of amyotrophic lateral sclerosis (ALS), are promising.
Brainstorm reports that the positive safety and preliminary efficacy results observed in this study are consistent with the results observed in the company's previous Phase I/II trial. Between the two studies, a total of 26 patients have been treated with NurOwn™, BrainStorm's stem cell therapy.
Senior Hadassah Medical Center Neurologist and Principal Investigator Prof. Dimitrios Karussis recently presented these results at the Joint Congress of European Neurology in Istanbul.
None of the 26 patients who received NurOwn™ in the two trials experienced any treatment-related serious adverse events. In the three month, pre-treatment "run-in" period, 71% of the patients showed progression of disease, with decline in neurological function. In contrast, in the three months post-transplantation with NurOwn™, 63% of the patients who received intrathecal (IT), or combined (IT) and intramuscular (IM) administration, showed stabilization or improvement in neurological function, as measured by their revised ALS functional rating score (ALSFRS-R). According to Prof. Karussis, these differences in the preliminary analysis were statistically significant.
Prof. Karussis summarized the results from both phases of the ALS clinical trial, and presented an interim analysis of the data for the first 10 out of 14 patients in the current Phase IIa trial. Results from the last four patients, he related, will be analyzed following completion of their six-month follow-up period. In both phases of the trial, 63% of the patients treated with NurOwn™ via IT or combined IT and IM administration were defined as "responders" (slower progression of disability or improvement in their neurological function) at three months post-treatment, based on both their ALSFRS-R score and Forced Vital Capacity (FVC), an indication of respiratory function. The six patients treated with NurOwn™ in the earlier Phase I/II trial via IM administration only, primarily exhibited a localized positive effect. Similarly, in the same Phase I/II trial, the IT transplanted patients also showed indications of neurotrophic and regenerative effects, as evidenced by an increase in Compound Muscle Action Potential (CMAP) in the treated arm.
Prof. Karussis noted, "I am very encouraged by signs of disease stabilization and even improvement that we observed in a number of the treated subjects. Analysis of the complete data set will be invaluable in helping BrainStorm optimize the analysis of its Phase II study, which is about to launch in the United States."
"We are very satisfied with the results observed so far in these two studies," commented Chaim Lebovits, BrainStorm's President. "The fact that some of the patients actually demonstrated clinical improvement surpassed our expectations of achieving stabilization or reduced rate of decline. We look forward to the completion of this trial and to building on these results in our double-blind, placebo controlled, multi-center study currently being launched in the USA."