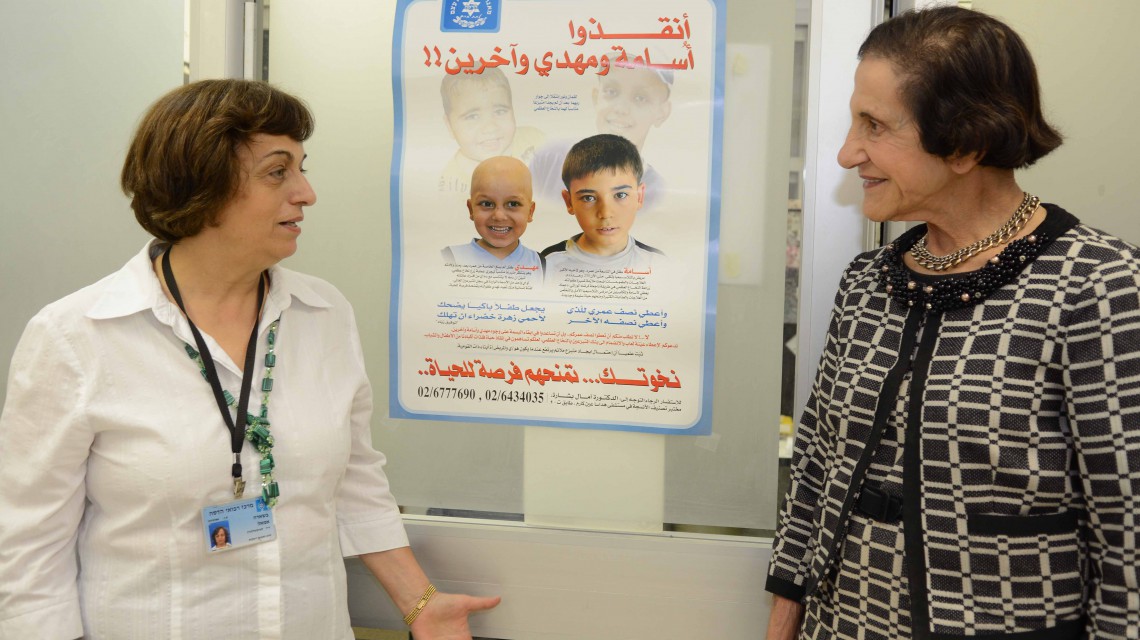 "You are in the best place in the world, where everyone cares for your son," HE Prof. Dr. Marie Bashir, Governor of New South Wales, Australia, told the mother of Baby Ali in Arabic, during her recent visit to the Hadassah Medical Center. The mother responded, "I know."
Ali was born with an immune deficiency that affects his lungs and threatens his life every time he has an attack. He is being cared for under the direction of Dr. Phillip Toltzis, head of Hadassah's Pediatric Intensive Care Unit, which Hadassah Australia has supported.
Dr. Bashir, a medical doctor and a psychiatrist, spent two mornings visiting Hadassah Hospital-Ein Kerem and Hadassah Hospital-Mount Scopus. During her visit to Mt. Scopus, she visited the newly dedicated Jack and Robert Smorgon Families Foundation Healing and Environmental Garden, also a project of Hadassah Australia, in partnership with Kerem Kayemet L'Yisroel (KKL)/Jewish National Fund (JNF) Australia.
While touring the pediatric hemato-oncology unit with Unit Head Dr. Michael Weintraub, Dr. Bashir met young patients from Israel and the West bank who are undergoing treatment for cancer and genetic diseases. Nuraladin, age 10, from the West Bank city of Nablus, was surprised, his mother said, when the elegant lady from Australia addressed him in Arabic. "I learned Arabic from my grandmother, who came from Lebanon," explained Dr. Bashir.
A further highlight of the Governor's visit was meeting with Dr. Amal Bishara, who heads Hadassah's bone marrow registry for Arabs. Interestingly, Dr. Bashir's sister, Helena, is a hematologist in Australia.
Although only about 1.2 million of the world's 400 million ethnic Arabs live in Israel, the sole registry for Arab bone marrow donors is located in Jerusalem. To date, Israel's Arab registry has found successful bone marrow matches for 36 patients. Requests for donors continue to flow in from around the globe.
"The whole world should see what is going on at Hadassah Hospital," said Dr. Bashir. "Here we all know we're part of the same human family."