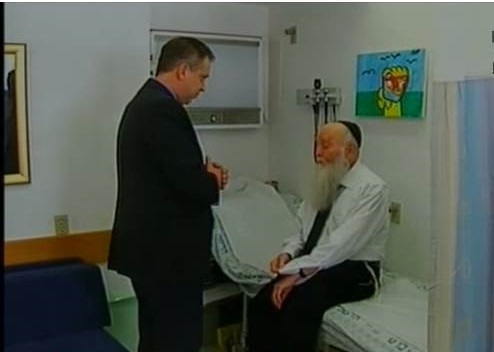 During a conference call with Hadassah Donors to talk about the success of the Hadassah ALS Clinical Trails, Professor Dimitrios Karussis referred to a famous Rabbi who was one of the first Hadassah success stories with the new Hadassah ALS treatment protocol. This article about the ALS treatment that Rabbi Refoel Shmulevitz received at Hadassah originally appeared in July 2012.
A new treatment for amyotrophic lateral sclerosis (ALS) based on stem cell technology and now in clinical trials at the Hadassah University Medical Center appears to have cured an Orthodox Rabbi in Israel who was diagnosed with the disease two years ago.
The Rabbi may be the first known patient cured of ALS. If the drug proves to be a viable treatment for ALS, the results would be game changing, and would help people afflicted with ALS across the world. "There is no doubt that a great drama is taking place here," said Professor Karussis, Head of the MS clinic at Hadassah Medical Center who has been treating Rabbi Shmulevitz.
Rabbi Refoel Shmulevitz, a son of Haredi scion Rabbi Chaim Shmulevitz and a head of the Mir Yeshiva in Jerusalem. Rabbi Shmulevitz was diagnosed with the disease in 2010 at Minnesota's Mayo Clinic, and as of one month of ago, his disease had progressed to an advanced stage, constraining Shmulevitz to a wheelchair and limiting his ability to speak and breathe. His condition was coupled with another rare disease, Myasthenia Gravis, and the resulting combination barred him from participating in clinical trials of NurOwn at Hadassah Hospital, where he is currently being held. Instead, he was approved for so-called "compassionate treatment", intended for patients with no hope for recovery from the disease.
"Within a few weeks following injection with NurOwn cells, the patient showed dramatic improvement in a variety of functions including breathing, speech, walking, muscular strength, and overall well-being," said Professor Dimitrios Karussis,  a neurologist at Hadassah and the principal investigator of BrainStorm's clinical trials, to Israel's Channel 2 News, adding "While we cannot draw scientific conclusions based on the outcome of an individual patient, these results are extremely encouraging."
Rabbi Shmulevitz is thankful for regaining his ability to walk, talk, and even climb stairs, calling his recovery a miracle and profusely thanking God. The euphoria is shared by BrainStorm's executives; Chairman of the Board Professor Avi Israeli said the company was "moved" by the "remarkable results observed" and Chaim Lebovits, BrainStorm's founder said "Its hard to describe the excitement that took hold of us as a result of the amazing results."
Read the full story in The Algemeiner.
For the story as it appeared on Israeli TV (in Hebrew) you can use the following link: http://www.mako.co.il/news-channel2/Channel-2-Newscast/Article-ac8e35f5cd84831017.htm
To make a donation to support the ALS research at Hadassah, Please go to http://helphadassahnow.org/donation