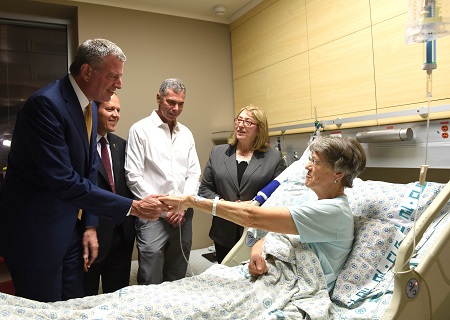 "I'd heard about the legend of Hadassah, but it turns out to be true."
I want to thank Hadassah. In spite of the challenging circumstances, each of the patients I met was inspiring and life affirming."
"Hadassah's mission goes beyond medicine."
With these words, New York City Mayor, Bill de Blasio concluded an emotional visit to the Hadassah Hospital at Ein Kerem.
Together with Jerusalem Mayor Nir Barkat, Major de Blasio visited terror survivor Pesach Krischevsky, who was attacked by a terrorist while waiting at a bus stop. The terrorist rammed into the bus stop, got out of the car and hit him in the head with a hatchet. His cousin, waiting at the same bus stop, was killed. Mr. Kirschevsky told the Mayor that he had great power in heaven because he represented so many Jews in New York. The Mayor wished him "zei gezunt" in Yiddish.
He also visited Maria Veldman, a former HMO nurse, who was stabbed on the bus coming from East Talpiot (Armon Hanatziv) on Tuesday. Ms. Valdman is a Christian from Holland who has foster parented 20 Christian and Moslem Arab children. One of her former foster children was visiting her when the two Mayors came by. (See photo above. Ms. Maria Veldman with Mayor de Blasio; Mayor Barkat; Prof. Alon Pikarsky, interim Head of Surgery; Prof. Tamar Peretz, Director General of Hadassah Hospitals).
Mayor de Blasio made a point of meeting with  NY-born Karen Laken wife of Richard Laken, an American, who was stabbed in the heart in the bus attack, and remains in critical condition in the Intensive Care Unit.
The Mayors spent a long time visiting each patient, gave a press statement, and then visited with a Palestinian physician Faras Kawasme in the Trauma Center to hear about his work life and how he feels about the current situation.