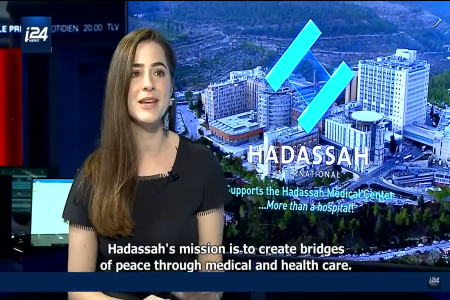 As a journalist with 2 million followers on social media, Olivia Goldschmidt is an influential young leader of Argentinian society. While in Israel attending a retreat for the newly reinvigorated Young Hadassah Without Borders, she was interviewed by Israel's News 24.
Olivia talks about the deep personal bonding of the 40 members of the new Young Hadassah Without Borders group, who were each invited to join because they are already leaders in their own right in social, public, and business fields in their respective countries and regions.  Under the auspices of Hadassah International, these Young Hadassah members are committed to bringing the Hadassah mission of "Building Bridges to Peace Through Medicine and Healthcare" to their own generation of 25- to 45-year-old men and women around the world and have each committed to taking on the role of Hadassah Ambassador to their own region of the world.
Olivia joined the group because what Hadassah is doing aligned with her interests, and she identified strongly with the cause. As an exceptionally effective communicator, she will lead the Young Hadassah Communications Committee.
During the interview, she talks about her experiences visiting the Hadassah hospitals and what she has shared on social media. Some of her takeaways are the remarkable coexistence between people at the hospital, regardless of their background; and the remarkable medical care, teaching, and research that all go on simultaneously. She describes the hospital as "a living being in itself, where all these things happen at the same time and in a truly diverse way."
She intends to use her platform to share how Young Hadassah Without Borders works every day to raise awareness, and to communicate the goals of Hadassah to more people.
English transcription of the interview:
First of all, Damian and Carlos, thank you for having me.
I am honored to be here on behalf of everyone at Young Hadassah Without Borders. It is a new organization created to take the mission of Hadassah International to the next generations.
Hadassah's mission is to create bridges of peace through medical and health care.
The Executive Director of Hadassah International is Jorge Diener, who decided a few months ago it was time to "reinvigorate" those who work for Hadassah International.
He brought together 15 young people (some younger than others), first in Zurich, and now 40 in Jerusalem, to get to know one another and see the hospital and meet the staff.
We had the pleasure of meeting some of the star researchers at the Hadassah hospitals who are pushing forward with the latest innovations. We also met some patients who had been in Hadassah who were generous enough to share their stories with us.
We got to know one another and started working in committees, each one with different subjects. I am leading the Communications Committee, but others work in technology, health, and fundraising, among others.
Q: How did Hadassah International get to you? Why did you decide to join this initiative?
They contacted me on social media. I am a journalist, but I am also an influencer using social media to share things that interest me.
One of my friends, Julian Gurfinkiel, with whom I share many interests regarding entrepreneurship and technology in Argentina, has a company called TurismoCity, a travel agency. After going to Zurich, he thought I might be interested. He called me to tell me about it. I was traveling at the time. We had a conversation, he said he thought I might be interested, and he was right. Many of the things I'm interested in were part of this initiative. Part of it, of course, is communication, but it's also about Israel.
And this idea… to explain: In the hospital, there is a coexistence… Israeli demographics are represented in the hospital.
It's not just the hospital here in Jerusalem, Hadassah had done several humanitarian missions, for example, a few months ago in Poland, 9 kilometers away from the Ukrainian border, they treated thousands of people. So, there were many reasons why this caught my attention.
Q: You identified with the cause promoted by Hadassah?
Exactly.
A short clip about the Hadassah hospitals was shown.
Q: Olivia, you toured the hospital. Is there anything that caught your attention?
I was particularly impressed by the coexistence…I am not talking about something idyllic, but something that is really happening in Jerusalem in particular. You have so many Orthodox Jews going to the hospital because of its location and of course people from all religions, Arabs, Muslims… The Director of the Emergency Department who leads that department is an Arab Israeli named Ahmed Al-Haq. It was great talking to him, and the same for his second in command. They cater to a very, very diverse population, and once the patients are admitted, they are patients….
While we were touring the hospital, that same morning at around 7 am was the double attack… there were many patients who had suffered…not the most critical injuries…but some who had minor injuries who had been treated minutes before we arrived at that same emergency room.
Another thing I found amazing was the caring: health care.. and how that coexists with education and research. Everything happens at the same place with a very interesting synergy.
You go up one floor, and you get to the Mother and child sector, Obstetrics, and then someone studying the latest discoveries about melanoma. That is truly amazing.
My conclusion after a while is that the hospital was a living being in itself, where all these things happen at the same time and in a truly diverse way.
Olivia shows clips from some of the stories she recorded to share on social media.
Q: You are a reporter and influencer; you move on to social media. What will you convey through your platforms? What will you say about your experience with Hadassah International?
One of the areas my platform revolves around is Israel and Judaism. (The others are cryptocurrency and advice on TV series and films to watch). For example, after one of the geopolitical incidents involving Israel, one of my sisters asked me to do something about it.
About my time at Hadassah, not only did I cover it as someone covering any other international event, but now from the Communications Committee of Young Hadassah International, I will share how we work every day to raise awareness, and communicate the goals of Hadassah to more people.
Apart from being Ambassadors in each region (of the world), there were 40 of us, at the meeting in Jerusalem and we each do things differently. I will be sharing the news of how we got here and of our projects.
I can give you a spoiler if you will allow me. One of our first ideas is to hold training sessions on first aid care. What to do if you are in a mall and someone faints or passes out? There is a course offered to medical students in their first year, and we are trying to find ways to share this knowledge because it can save lives and also helps people with their health.
Olivia, it has been a pleasure to have you here with us talking about this experience with Hadassah in Israel.
Thank you so much on behalf of Young Hadassah without Borders.