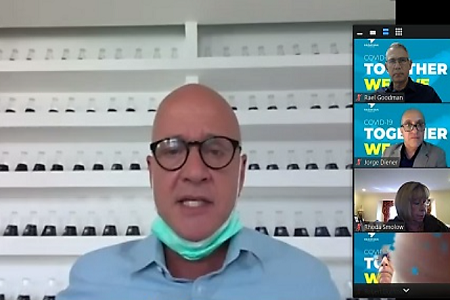 What gives the Hadassah Medical Organization a unique vantage point to be a world leader in fighting COVID-19?
Basic science research in collaboration with the Hebrew University of Jerusalem,

Extensive experience and agility in quickly translating basic research into clinical studies,

Connections with other hospitals all over the globe,

Financial support from Hadassah International and Hadassah, the Women's Zionist Organization of America.
As  Prof. Eyal Mishani, director of Hadassah's Research and Development Division, told 700 people from 26 countries at an April 22 webinar hosted by Hadassah International, Hadassah is involved in three domains of research:
refining tests for both detecting the coronavirus and measuring antibodies in recovering COVID-19 patients

developing better instrumentation and devices to help patients heal

conducting clinical trials to fight and cure COVID-19
Prof. Mishani reported that Hadassah Hospital was the first hospital in Israel to do mass testing for the coronavirus in its own laboratory. "Hadassah testing has proven reliable," he says. "We have not had problems with false positives or false negatives." Right now, Hadassah can test 2,000 samples a day. The current PCR test, Prof Mishani related, is a multi-step, time-consuming process, but Hadassah is working on new testing techniques that will exponentially increase the number of tests that can be done and read quickly. For example, Hadassah is investigating a technique that allows researchers to extract an individual's RNA, flag it, and then place 1,000 samples in a single test tube and test them all at once. This new technique, he says, if proven successful, will allow Hadassah to test about 100,000 samples a day.
Projecting long term, Prof. Mishani expects that eventually, there will be home tests widely available for people to test themselves for the coronavirus.
At the same time, Hadassah researchers are working on developing a reliable test to determine a recovered COVID-19 patient's level of immunity. They are also performing research aimed at enriching the concentration of antibodies in the plasma derived from COVID-19 survivors so that the plasma can be given to seriously ill patients.
"Hadassah is a bridge in this new world of COVID-19," Prof. Mishani commented. "Everybody is together in this war." He noted, as an example, that antibody serum from recovered COVID-19 patients in one community will be used to heal severely ill patients in another community.
Emphasizing that "it's extremely important to focus on treatments that can be used in the short run," Prof. Mishani related that Hadassah is giving patients various anti-viral medicines that were used successfully in the past to treat other diseases. For example, he and Prof. Yoram Weiss, deputy director of Hadassah Hospital Ein Kerem, are conducting a clinical trial with Camostat Mesylate, a medicine that has been used in Japan to treat pancreatitis. This medicine prevents the virus from proliferating. Prof. Mishani explained that for a virus to enter a person's cell, it needs to be "escorted." The medicine inhibits the functioning of this escort and, thus, prevents what is called increased "viral load." COVID-19 patients who are moderately ill are given this drug.
Prof. Mishani explained that first the patient's viral load is measured. Then the patient is treated with the drug, which is given orally. In a few days, another sample is taken to see if the medicine has reduced the patient's viral load.
Other drugs are being used to treat the "cytokine storm," an overreaction of the immune system to the disease, which causes organ failure and death in some COVID-19 patients. One such drug is Actemra, an anti-inflammatory medicine that calms the inflammatory overreaction. This medicine, he said, is being given to severely ill COVID-19 patients in a later stage of the disease.
In closing the webinar, Jorge Diener, associate director of Hadassah International, announced that HI will be publishing a manual of COVID-19 protocols developed at the Hadassah Medical Center. "We will be sharing this manual globally, with some of the poorest countries of the world," Mr. Diener said, "and potentially help save millions of lives."
See the press release after the event.
See Breaking Israel News.
Watch the webinar: