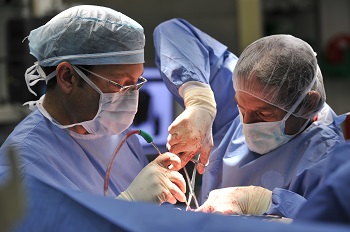 Terrorism and other mass casualty events have been the mother of invention for the Hadassah Medical Center's orthopedic trauma teams.
With each mass casualty event, its specialists innovate and learn from the experience, crafting more effective treatment techniques and protocols for treating victims of orthopedic trauma. At the same time, Hadassah continues to pioneer a groundbreaking stem cell treatment–using the stem cells from a patient's own bone marrow–to heal complex fractures faster and more successfully. Combining stem cells and growth factors to regenerate bone, Hadassah is also trailblazing a biological solution to severe bone loss.
Most recently, Prof. Rami Mosheiff, head of Orthopedic Trauma at Hadassah, achieved a patent for a "Mesenchymal Stem Cells Delivery System, Intended for Bone" and a "Tissue Regeneration Membrane," with which he begins clinical trials in the near future. This Regenecure "Regenerative Membrane Implant" was invented by Prof. Mosheiff, along with Prof. Michael Friedman, a biomaterials expert at the Hebrew University School of Pharmacy. The expectation is that the implant will accelerate healing of severe fractures by 40 percent, with a single-stage procedure that just requires a minor modification to traditional surgical practice. The intent is for it also to be a stand-alone device, as well as used in conjunction with bone grafts.
The upcoming clinical trial will evaluate the safety and efficacy of the implant as a bone- stimulating aid for orthopedic trauma cases. Participants will be male and female patients who have sustained a fracture of their femur bone, where there is an increased risk of the bone not fusing successfully. While one of the trials will be at Hadassah, multi-center trials will also be initiated.
A graduate of the Hadassah-Hebrew University School of Medicine, Prof. Rami Mosheiff is currently head of Orthopedic Trauma at the Hadassah Medical Center.
Foreshadowing his later specialization, Prof. Mosheiff did his M.D thesis on "Stress Fractures in Highly Motivated Military Recruits" and went on to do a residency in Hadassah's orthopedic surgery department. A former paratrooper in the Israel Defense Forces (IDF), a paramedic, and an instructor in the IDF Medical Corps, Prof. Mosheiff has undertaken a fellowship in trauma surgery in Germany, a research fellowship at the AO Research Institute in Davos, Switzerland dealing with the treatment of severe bone loss, as well as several other fellowships in orthopedic trauma surgery.
Prof. Mosheiff has been Chair of AOTrauma, Europe since 2011, as well as a member of the Scientific Committee of the Israel Orthopedic Association. AOTrauma, an international community of trauma and orthopedic surgeons, musculoskeletal researchers, and operating room personnel, is dedicated to delivering knowledge, experience, and evidence to improve patient care and outcomes in the field of musculoskeletal trauma. As Prof. Mosheiff commented when he assumed the chairmanship, "Medicine is about connecting to people, dealing with patients and surgeons. And being connected to over 30 countries with different attitudes, practices, and work is a whole new exposure which the AO provides."
The boycott, divestment, and sanctions (BDS) movement which seeks to isolate Israel, Prof. Mosheiff relates, has not gotten in the way of Hadassah's relationships with surgical colleagues around the world. Prof. Mosheiff notes that he was elected to chair AOTrauma with the support of Arab and Iranian members from countries that have no formal diplomatic relations with Israel.
Since 2010, Prof. Mosheiff has been a full professor of orthopedic surgery at Hadassah and since 2014, Vice Dean for Academic Appointments at the Hadassah-Hebrew University School of Medicine. The recipient of numerous awards, Prof. Mosheiff is an honorary member of the Romanian and Columbian societies of Orthopedics and Traumatology. He serves as a reviewer of articles for various prestigious professional journals, such as the European Journal of Trauma and Emergency Surgery.
Prof. Mosheiff has lectured internationally in his specialty, moderated and chaired numerous conferences around the globe, and mentored fellows from numerous countries–sharing his expertise from Brazil to Hawaii to Tanzania.