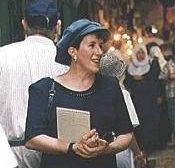 Barbara Sofer, Hadassah's Israel Director of Public Relations, has received many warm words of appreciation from grateful patients who want to express their thanks to the hospital's supporters around the globe.  Among them:
Hayim Levtov, one of the soldiers whose arm and leg were wounded this summer during the war in Gaza. "He was walking the halls, looking so cheerful," Mrs. Sofer relates, "and asked me to say thanks to the supporters of Hadassah." See earlier story.
Shahar Israel and her parents, Amos and Esther, who celebrated her Bat Mitzvah at Hadassah's Convention in Las Vegas this past July. When Esther was stricken with brain cancer, she and Amos decided to adopt their children. Although Shahar was adopted, unfortunately, she came down with leukemia. Thankfully, both Esther and Shahar were cured at Hadassah. See earlier story.
Sheina Goldstein Weinstein, mother of four, who is being treated for lymphoma at Hadassah (and who also happens to be the great niece of Barbara Goldstein, Deputy Director of the Hadassah Office in Israel). Her cousin, Dina, of blessed memory died of this exact disease but, according to Sheina's doctors, she is going to make it!
Ori Ronen, the paratrooper who kept fighting even though he was shot in the shoulder. His was a very complicated injury, but Hadassah's orthopedists pulled him through. He and his family are great fans of the Sarah Wetsman Davidson Hospital Tower, where they had space to gather around him while he was healing. How is he doing? "Good news," he told Mrs. Sofer. "I'm well enough to be rejoining my unit!" See earlier story.
Matan, a seven-year-old boy whose parents had been taking him to doctors for six months because his eyes were red. They were given many bottles of eye drops, but it was not until they saw Irene Anteby, Director of Hadassah's Center for Pediatric Ophthalmology, that he was truly helped. Dr. Anteby discovered a tiny sliver of glass that had penetrated his eye from a science experiment he and his siblings had tried. After the passing of so much time, it was difficult to remove the glass. But Matan is now doing well and his parents send their appreciation.
David Kazhdan, the Israel Prize-winning mathematician who, last year at this time, was in Hadassah's Intensive Care Unit, having been run over by a trailer truck. In many medical centers, relates Prof. Yoram Weiss, Medical Director of Hadassah Hospital-Ein Kerem, he wouldn't have been revived." Mrs. Sofer saw him walking down the street in her neighborhood, still with a walker, but moving very fast. See earlier story.
David Fintzi, who was electrocuted and burned in an accident in Romania. He almost died on the plane to Israel. At Hadassah, he was pulled back from near death. He's now started medical school. He and his parents, Andre and Manuella, send their warmest greetings and blessings. See earlier stories.
Muhammed Husam, a waiter in Jaffa who lives in Ramallah, is so grateful to Hadassah's Dr. Polina Stepensky for saving his daughter, Tasnin, age 9, who has a rare immune deficiency. She is the first known survivor of this condition. See earlier story.
And, from the evacuees of the Gaza border kibbutz, Nachal Oz, who found shelter with their children at Hadassah's Youth Village, Hadassah-Neurim, during Operation Protective Edge, Mrs. Sofer relates: "Please tell the supporters of Hadassah that they are our 'Protective Edge.' "   "These are just a few of those whose lives have been touched so significantly this year," Mrs. Sofer says. "Your support through thick and thin has made all the difference."