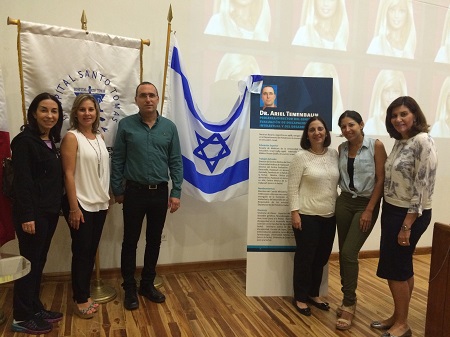 Dr. Ariel Tenenbaum, Director of the Hadassah Center for Intellectual Disability and Development was invited to share his expertise in Down's Syndrome with several different communities in Panama as a part of a special tour arranged for him by Hadassah Panama.
In January 2016, the Panama National Secretary for the Disabled (Secretaria Nacional de Discapacidad –Senadis) asked Hadassah Panama to provide a speaker for an upcoming government sponsored conference on "Equipping to go beyond Limitations". Dr. Ariel Tenenbaum was chosen to participate and had the opportunity to speak to several different communities in Panama interested in his specialty of Downs Syndrome.
On Wednesday, March 2, 2016 Dr Tenenbaum gave a lecture at the Panama City Convention Center on "Downs Syndrome: Past, Present and Future".  The interest of the audience of about 100 people was palpable, and they asked numerous questions. The Director General of Senadis, Nelida Ortiz, presented Dr. Tenenbaum with a certificate thanking him and Hadassah Panama for participating in the national congress and helping to empower people with mental disabilities like Downs Syndrome, which is one of the goals of the parents and medical community who deal with Downs Syndrome in Panama.
On Thursday morning, March 3, 2016, Dr. Tenenbaum, and some of the Hadassah Panama volunteers, visited the Ann Sullivan Center in Panama at the invitation of Dr. Melina Mancuso, CEO. The Ann Sullivan Center helps children with Autism and Down's Syndrome, by assessing and education them. Dr. Tenenbaum had the opportunity to talk to the parents of some of the Down's Syndrome children, who discussed some of their experiences. He was able to answer some of their questions related to the health of their children. Dr. Tenenbaum also held a round table discussion with administrative and technical staff and other workers in the field, providing them with ideas for how to provide comprehensive guidance to the families who use the center. It was a very rewarding morning for all who participated.
At noon on March 3, 2016, Dr Tenenbaum gave a lecture at the Punta Pacifica Hospital on "Downs Syndrome: Past, Present and Future". The participating doctors were extremely pleased at level of professionalism of the talk.
That night, March 3, 2015, Dr. Tenenbaum participated in a discussion entitled, "The child is the father of man" at the Panama Hebrew Cultural Center, talking about the impact of new technology on the development of children and teens in the Twenty-first Century. An audience of over 80 people was very engaged. At the conclusion, Rebeca Perelis presented Dr. Tenenbaum with a thank you gift on behalf of the participants.
On Friday March 4, 2016, Dr. Tenenbaum spoke to an audience of over 300 doctors, therapists, parents, children, and young people with Downs Syndrome in the auditorium of the San Tomas Teaching Hospital, talking again about "Downs Syndrome: Past, Present and Future". The audience was very attentive and motivated, and the question and answer period lasted nearly an hour! Participants indicated they would eagerly await Dr. Tenenbaum's next visit.
Photo on top of page: Dr Tenenbaum and the Hadassah Panama volunteers at the San Tomas Teaching Hospital