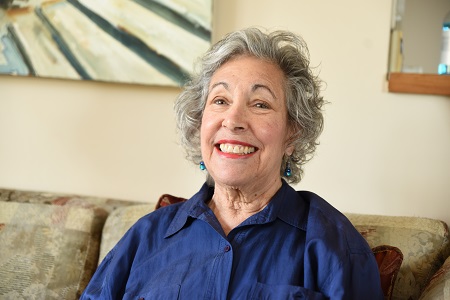 The threat against Israel in 1967 followed by the country's rapid victory over attacking armies in the Six-Day War awakened Dorraine Gilbert Weiss's latent feelings for the Jewish homeland.
"I'd hear the Israeli national anthem Hatikvah and I would cry," says Gilbert Weiss, 75. "I was living in Phoenix at that point. I put my Zionist feelings into harder work for Hadassah in Phoenix. Hadassah not only expressed my Jewish and Zionist values, but I also knew that Hadassah's hospital was full of Israeli soldiers. The doctors were serving on the fronts, too. What could I do 9,000 miles away? Hadassah put out a cookbook. I sold the most. To be friends with me it was simple: Jews and non-Jews alike, you had to become a Hadassah life member."
Later, when Gilbert Weiss moved to Los Angeles, she twice served as president of a Hadassah group in Pasadena and started numerous new groups. Wanting even more Israel in her life, she became the Israel Zionist affairs chair for Southern California. When the older of her two sons married and moved to Israel, Gilbert Weiss and her second husband, Barry Weiss, made the bold decision not only to move to Israel themselves but also to bring their parents with them. At the time, Barry's mother, the well-known New York TV personality Fran Lee, aka Mrs. Consumer, was 97. Dorraine's own parents were octogenarians. Sadly, her mother died before they could carry out their grand plan, but the rest made aliyah in 2008.
The entire extended family became patients of Hadassah doctors—from childbirth to biking accidents, to more serious diseases. Barry, a retired package designer who recently turned 89, broke his hip and suffered a hairline fracture but is still able to ballroom dance, mainly Latin, with his wife.
As Gilbert Weiss relates, "My experience told me that if someone needs medical attention they should go to Hadassah. Everybody works as a team there. Together. The care is so fabulous and there's no co-pay. We're so lucky."
"In 2015 I was diagnosed with breast cancer, and last February, I had what I feared might be COVID-19 because I was so weak. It was worse than COVID. I had a kidney stone but I also had heart failure," she says. "After treatment, I was advised to see Dr. Donna Zfat-Zwas, who heads the Linda Joy Pollin Cardiovascular Wellness Center for Women. My good luck is that I qualified for a clinical trial she was running."
Dr. Zfat-Zwas added her to a trial of Finerenone, a drug used to reduce the risk of kidney function decline, kidney failure, cardiovascular death, non-fatal heart attacks, and hospitalization for heart failure. "We use it to prevent hospitalizations and decrease mortality," says Dr. Zfat-Zwas.
Gilbert Weiss relates, "I'm still an active member of the organization, but I never imagined while I was peddling cookbooks or telling everyone I met that they had to join Hadassah that my life and that of my own family members would be saved time and again by the outstanding medical care that has been made possible by the work of our hands. I have nine grandchildren and recently become the great-grandmother of a gorgeous sabra baby boy. I get to hear Hatikva often in Israel. I still cry."