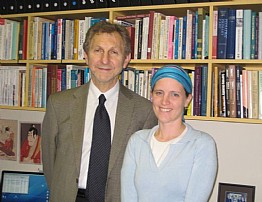 A collaborative medical venture in pediatric community health care between Royal Children's Hospital of Melbourne and the Hadassah Medical Center has been launched under the umbrella of AUSiMED—the bilateral initiative established by Hadassah Australia. A pediatric fellow from Israel is slated to begin an academic exchange at the beginning of 2010.
Royal Children's Hospital has an international reputation for its research, training, clinical work, and public policy formulation in children's health and development. In Israel, while there are centers of excellence for traditional pediatric care, community child health and developmental/behavioral pediatrics have not yet begun to emerge as a specialty area as it has in Australia. Hadassah Medical Center is renowned for the quality, cutting-edge care it provides to the children of Israel and has identified the establishment of a Community Child Health Unit as a major priority.
The first pediatric fellow, slated to study under Prof. Frank Oberklaid, Director of the Center for Community Child Health at Royal, will be Hava Gadassi, currently a pediatric resident at Hadassah. The intent is for Mrs. Gadassi to establish a new Academic Community Child Health Unit at Hadassah after she completes her training in  Australia. Originally from France, Mrs. Gadassi is a graduate of the Hadassah-Hebrew University Medical Center. From 1993-2008, she was involved in a health tutoring program in Jerusalem's primary schools.
In five to ten years, program directors envision, there will an academic unit in community child health at Hadassah that has international standing for the quality of its research and the excellence of its clinical work and training. While its clientele will be focused initially in Jerusalem and neighboring areas, the intent is for the unit to establish itself as a national leader. The new unit will undertake important clinical and community-based population research, develop innovative and research-based models of clinical care, and work collaboratively with other stakeholders in delivering high-quality community-based services. In addition, the unit will contribute to public policy with respect to children's health, especially in the area of early childhood intervention. A strong collaboration will be ongoing between The Royal Children's Hospital and Hadassah, with professional exchanges and the sharing of knowledge and expertise.
AusiMed, launched in July 2008, was created to promote and facilitate bilateral clinical and research cooperative ventures between the Hadassah Medical Center and Australian scientific and medical institutions. Hadassah Australia aims to fund AUSiMED medical exchanges and fellowships through several avenues: An AUSiMED Institutional Forum, where various medical and educational institutions as well as corporations are being asked to donate $5,000; a "Keepers of the Gate" program, where individuals can join by contributing $100 per month; with the local B'nai Brith chapter adopting AUSiMED as one of their core fundraising projects; and with generous donations from individual donors.