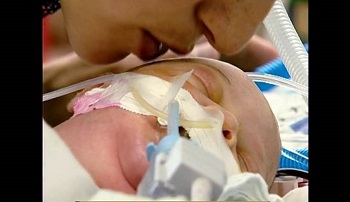 Through the "Save the Children" project of the Peres Center for Peace, the Hadassah Medical Center's physicians not only perform complex cardiac surgeries on Palestinian children, they also train Palestinian physicians so that they can treat Palestinian patients closer to home.
Through the Medilinks: Developing Palestinian Medical Excellence program, Hadassah trains Palestinian fellows in various medical specialties—for example, Intensivist Dr. Flora Taher and Ophthalmologist Dr. Saleh Abu Asleh, who are featured in this Peres Center film.
Hadassah's oncologists helped to establish the pediatric oncology center at Augusta Victoria Hospital in East Jerusalem, which is highlighted in the film, along with Hadassah's pediatric intensive care unit, where Dr. Taher was training.
For the Peres Center for Peace and its partners, the commitment to saving lives has no borders; rather it is a bridge to peace.
This video can also be found at http://vimeo.com/98605350