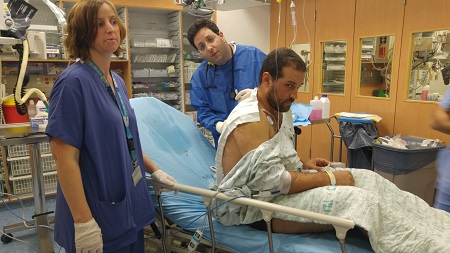 Piguah!
The single word for terror attack in Hebrew spread through the hospital, as doctors and nurses moved from their clinics and from the recovery room (where I was visiting a friend who had wrist surgery after slipping in her own home). I walked with Dr. Ruchi Hashem, a senior anesthesiologist. The team was already gathering: Surgeon Avi Rivkind, of course, and the younger trauma surgeons he's trained: Prof. Alon Pikarsky, now acting head of surgery, and Dr. Miklosh Bana, head of the trauma center, and specialists of every kind.  The nurse contact made the announcement: two patients, one a lightly injured man who had been stabbed, and the second the woman terrorist, in very serious condition.
Daniel Rosenfeld, 38, was walking in the Old City, on the street—Hagay Street near the Damascus Gate– where a terrorist murder took place on Saturday.
A woman terrorist attacked Daniel with a knife. He managed to draw his gun and shoot her.
Magen David Adom was bringing them in two separate ambulances.
The medics, always running, bring them in. Rosenfeld is sitting up. He looks stunned.
The terrorist is lying down. She's been shot near the neck.
Funny, I notice that her delicate stockings are white and clean, maybe new that morning or carefully scrubbed.
Her brown hair is shining, as if she'd just washed it. She's 18. I wonder if she got up and showered and dressed this morning with the thought that she'd go out to try and kill a Jew.
A dozen doctors and nurses bend over her to try and save her life.  A dozen medical students stand by watching.
Dr. Oded Cohen-Arazi is stitching up Rosenfeld's head.  "You're the hero," I tell him. "I guess so," he admits. He feels lucky to be alive.
The terrorist is also going to make it. She's being taken care of by our doctors and nurses who are the greatest heroes of all.
By Barbara Sofer, Hadassah Director of Public Relations
Caption for photo: Hadassah Staff treats Daniel Rosenfeld in the Swartz Center for Emergency Medicine