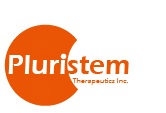 Recently there has been a great deal of  interest in the medical world about the research done at Hadassah showing the potential of Pluristem cells to prevent Radiation Sickness.
This article on the research at Hadassah was originally published by Hadassah International in October, 2011.
"In pre-clinical studies," notes Prof. Raphael Gorodetsky, head of the Biotechnology and Radiobiology Laboratory at the Sharrett Institute of Oncology at Hadassah University Medical Center, "we found that placental-derived cells potentially have the ability to increase the survival rate of animals following exposure to lethal doses of total body irradiation."
These placental (PLX) cells, developed by Pluristem Therapeutics Inc., treat life-threatening complications associated with Acute Radiation Syndrome (ARS). During the studies, animals were injected intravenously with either PLX cells or a placebo, on the day after being exposed to lethal doses of radiation. Nine days following treatment with the PLX cells, the animals' bone marrow and spleen were examined for signs of hematopoietic (blood forming) tissue. On day 23, bone marrow and blood samples were examined in the surviving animals. Overall survival and body weight changes were also monitored. The researchers found in the animals treated with the PLX cells:
an up to four-fold increase in the survival rate accompanied by a corresponding weight regain
an increase in red-cell count on days 21-23
an elevated number of hematopoietic colonies on day 9
Over the next few months, Prof. Gorodetsky and his team will focus on better understanding the PLX cells' mechanism of action as an "off the shelf" post radiation treatment, which could potentially be used in the future for treating ARS patients.
"While our experiments using PLX cells in treating radiation exposure are ongoing and still evolving, these initial data are very encouraging," said Zami Aberman, Chairman and Chief Executive Officer of Pluristem. "PLX cells as a sole treatment may potentially enhance the survival of lethally irradiated individuals. Moreover, since our previous work indicated that PLX cells can enhance the engraftment of hematopoietic stem cells from cord blood, we can offer a multifaceted approach to reduce and treat the destruction of bone marrow that occurs following exposure to high-dose ionizing radiation. Stockpiled PLX cells can be administered acutely and as a bridging therapy to protect the bone marrow.".
Please also see a later article published on this research in 2013. http://v2023.hadassahinternational.org/placental-cells-mitigate-radiation-induced-complications-in-mice-hadassah-researchers-reveal/