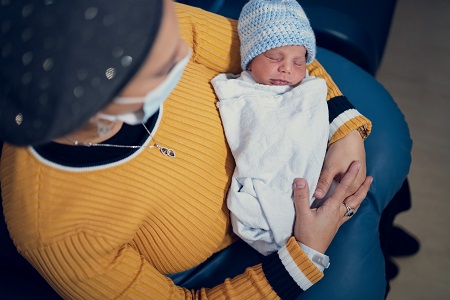 A Hadassah Medical Organization study has revealed that pregnant women who were vaccinated against COVID-19 passed their antibodies on to their babies. The level and type of antibodies were suggestive of "being able to block the virus sufficiently," reports Dr. Dana Wolf, one of the study's lead researchers and director of the Clinical Virology Unit at Hadassah.
The study evaluated the level of Immunoglobulin G (IgG) antibodies of 20 pregnant women and their babies. The women had received two shots of the Pfizer coronavirus vaccine during the third trimester of their pregnancies. In all cases, antibodies were detected at adequate levels, both in the mothers' blood and in the cord blood.
"Neonatal protection from infection is primarily dependent on maternally derived antibodies that are transferred via the placenta," relates Dr. Wolf.
The study has thus far only been published on medRxiv, a preprint server for the health sciences, and, therefore, has not yet been peer-reviewed.
The research was conducted in February, very soon after the first pregnant women began receiving vaccines in Israel. Dr. Wolf notes that the research team is now evaluating the level of antibodies in women who were vaccinated earlier in their pregnancies, too.
Since the start of the COVID-19 pandemic's third wave, dozens of pregnant women in Israel have been hospitalized in intensive care units after contracting COVID-19. In most cases, they had to deliver their babies early via emergency C-sections.
Read the full article in The Jerusalem Post.