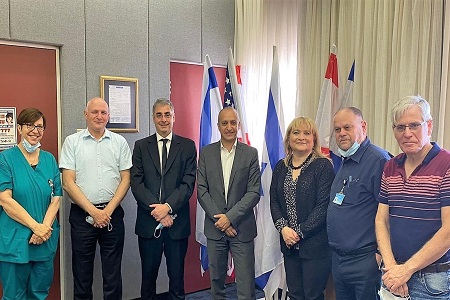 Hadassah International (HI), Hadassah, The Women's Zionist Organization of America (HWZOA), and Hadassah Medical Organization (HMO) have confirmed a joint collaboration between the Argentinian Government and HMO in Jerusalem, aimed at providing Argentina with the help it needs to prevent COVID-19 from spreading out of control.
Five top medical experts from Hadassah Hospital Ein Kerem will travel to Argentina next week to share Hadassah's extensive experience with treating COVID-19. At the same time, conversations to start a phase III study of Brilife, the Israeli COVID-19 vaccine, which was developed by the Israel Institute for Biological Research and tested primarily at Hadassah, will be initiated in Argentina.
Robert Dorfman, President of Hadassah International declared: "Hadassah Medical Organization's delegation to Argentina seeks to provide critical knowledge and experience to frontline medical professionals in Argentina in the global fight against the COVID-19 pandemic. The Israeli delegation's visit also provides an opportunity to broaden the lines of communication and co-operation that go beyond the challenges of COVID-19 and may result in a wide range of areas in which lifesaving procedures and research can be shared for the betterment of humankind."
The Hadassah visit is a result of conversations between Hadassah International Executive Director Jorge Diener, and the Argentinian Ambassador to Israel Sergio Urribarri. The HMO delegation will be hosted by Argentina's President Alberto Fernández and his government, including Foreign Minister Felipe Solá and Health Minister Carla Vizzotti.
The Hadassah delegation will be led by Prof. Yoram Weiss, director of Hadassah Hospital at Ein Kerem together with Mr. Diener, on behalf of Hadassah International. They will be accompanied by several COVID-19 experts, including Prof. Dror Mevorach, head of one of Hadassah's COVID-19 Outbreak Units and the inventor of Allocetra™, a successful COVID-19 treatment; Prof. Sigal Sviri, director of the COVID-19 Intensive Care Unit (ICU); Prof. Yoseph Caraco, director of the Hadassah Center for Clinical Research, which administers the Brilife vaccine; and Claudia Poggi COVID-19 ICU nurse.
Rhoda Smolow, President of Hadassah, The Women's Zionist Organization of America (HWZOA) said: "Hadassah's medical care is not constrained by geographic boundaries. With COVID-19 spiraling out of control in Argentina and the country's healthcare system in crisis, Hadassah has a moral obligation to step in. We are extremely proud of the HMO delegation, an all-star team of leading doctors, specialists in COVID-19, and a nurse from the COVID-19 ICU​, who have volunteered to travel across the world. They will provide critical expertise to Argentina as it struggles to manage the onslaught of COVID-19 cases and stave off the worst effects of this terrifying disease."
Dalia Itzik, Chair – Hadassah Medical Organization, Board of Directors stated: "Global pandemics do not know political or geographical boundaries. They hit everywhere and anywhere with the same strength, without differentiation. These are the times when the beauty of humankind needs to prevail, and as such Hadassah's obligation is to share its knowledge and  COVID-19 expertise obtained during the past 14 months when HMO treated more patients than any other hospital in Israel. Through cooperation and partnership, we can achieve so much more. I am grateful for the medical team that volunteered to travel to Argentina in these harsh times, and I am convinced that through their work this crisis will come to an end much sooner,"
Prof. Zeev Rotstein, Director General of Hadassah Medical Organization stated: "The work of the medical center knows no boundaries and for us wherever we have the opportunity to help and contribute, we will be there. Just as we led the war against Corona in Israel, so we will enrich the Argentinian government with our knowledge, experience, and innovation as their country faces a widespread and alarming outbreak. I am sending them my best Hadassah team, and I am confident that they will be able to reach out in any field in which they are experts."
Mr. Diener concluded: "For Hadassah Medical Organization and Hadassah International, this collaboration represents the fulfillment of our most important mission, which is to build bridges among nations through health." He added, "The realization of joint projects with Argentina, which may eventually ensure the health of the population of Argentina in these critical times, will not only have an impact in both our countries, but will also generate solutions that can be applied in other parts of the world."