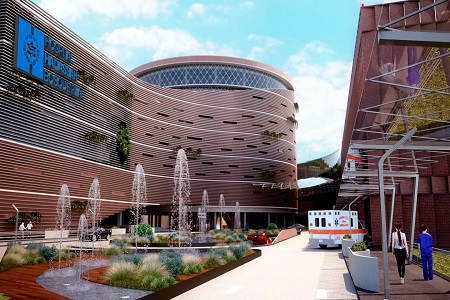 Hadassah International, Hadassah, The Women's Zionist Organization of America, Inc., and Hadassah Medical Organization are very proud to announce a collaboration with Global Enterprise, Mexico announced in a special media event that took place last Thursday, September 2nd, to establish the first Hadassah Hospital in Latin America, in Bosque Real, Mexico City.
Slated to be completed in four years, this hospital, which will be located within the metropolitan area of Mexico City, will be the first Hadassah Hospital in the Americas. The new medical facility, to be called Hadassah Bosque Real, will become a symbol of excellence in medicine, bringing Hadassah Hospital's high standards of medical care to Mexico.
Situated in a spacious gardened area, Hadassah Hospital Bosque Real will feature:
more than 40,000 square meters of building area and 10,000 square meters of land in a modern growing community
the capability to serve 500,000 patients annually
a 16-story extremely well-equipped modern hospital, including cutting-edge technology
13 operating rooms
a staff of 70 on-site physicians and 100 nurses and paramedics
a 14-story medical office building with space for 450 medical offices.
Experts from Hadassah Medical Organization will provide technical assistance to Global Enterprise in Mexico, assisting in the design, planning, training, and standardization of medical protocols.
"We are excited to be joining with you in this huge task to make this a great hospital," relates Prof. Yoram Weiss, HMO's acting director-general. "We do it humbly, but with excitement."
The new Hadassah Bosque Real Hospital will fill a need in Mexico for highly specialized health services, with the best equipment and the best doctors, making it unnecessary for Mexicans to leave the country to access these services.
Zvi Tal, the ambassador of Israel in Mexico endorsed the project and gave his best wishes for much success.
Rafael Zaga, chair of Hadassah Mexico and member of Hadassah International board, commented on his strong feeling of being able to bring his two loves that are Mexico and Israel closer together "in a health project that will bring enormous benefits to the Mexican Society and many technologies from Israel."
"At Bosque Real, we are stimulated to contribute to the achievement of Mexico with what we dream of, and this encourages us to promote and bring more projects that generate jobs for a great number of Mexicans, as it is the case with the Hadassah hospital whose arrival today at Bosque Real is being announced," says Marco Salame, chair of the Bosque Real Groups.
As James Diewald of the Skidmore, Owings & Merrill architectural team expresses, "We are creating a sustainable community for urban wellness."
In addition, the new Hospital will foster bridges between Mexico and other countries to exchange knowledge, research, and health practices for the medical community and the health sector in general.
Isaac Zonana, chairman of the Investment Council of Global Enterprises, mentions that "there are things that have much more value than money in the world and it is to be able to see and help humanity and that is what my team wants. We will be able to offer all our patients' science, technology, of course, technology in equipment and technology in what is research day by day."
Planned to be the most modern and best-equipped hospital in Mexico with the same level of excellence as Hadassah Hospital in Jerusalem, this new facility will serve the 126.5M inhabitants of Mexico.
HWZOA National President Rhoda Smolow noted, "Once again, Hadassah is demonstrating that health care has no borders. We believe that the Hadassah Medical Organization will be instrumental in supporting the development of better medicine in Mexico. Together, we will create a new standard of medical excellence in Latin America."
"This is a historic moment, brought to fruition thanks to the many dreamers who worked hard for many years to translate this dream of a Hadassah Hospital in Mexico to reality," comments Hadassah International Executive Director Jorge Diener. "In the midst of this unprecedented pandemic, there is a light. A bridge has been built. The name of Hadassah will shine brightly on the skyline of Mexico."
To view the full event: