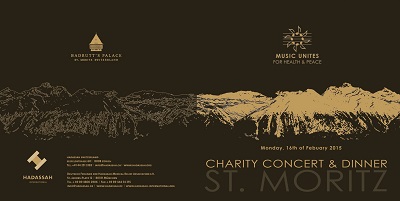 Under the patronage of HSH the Prince of Schaumburg-Lippe, Dr. h.c. Charlotte Knobloch and Veronika Ferres, this elegant Hadassah Europe event will take place in the Embassy Ballroom of the Badrutt's Palace Hotel in St. Moritz.
Before the Gala, there will be an exceptional concert uniting three outstanding artists from the Netherlands, Lebanon and Iran. Edmond Fokker van Crayestein, Violin; Matteo El Khodr, Counter Tenor; and Mahkameh Navabi, Pianist, will entertain the attendees with a promenade through the wonderful world of vocal music.
Proceeds will benefit the "Poorest of the Poor" fund at the Hadassah Medical Center in Jerusalem. Donations will help the deserving poor while assisting Hadassah International's mission of creating a mutual understanding of support and help across nations, thereby hopefully setting the foundations for peace in the Middle East.
Poorest of the Poor
Several Israeli and Palestinian families as well as other non-citizens do not have access to the full medical care they need, or simply cannot afford it. It is common for Israeli insurance companies not to cover the cost of special medical treatments which are often crucial for a full recovery. Hadassah´s mission is to give everyone access to the best of medical care, and hence the "Poorest of the Poor" fund was founded to give all patients the medical treatment they require. Dedicated multi-disciplinary teams from the Hadassah hospital devote themselves and their time to the sick and weak. Patients will be treated even though their insurance might refuse to cover the cost incurred. In order to provide such vital medical services for people in financial and medical need, the Hadassah Medical Organization has founded the "Poorest of the Poor" fund to assure that everyone receives appropriate and equal treatment.