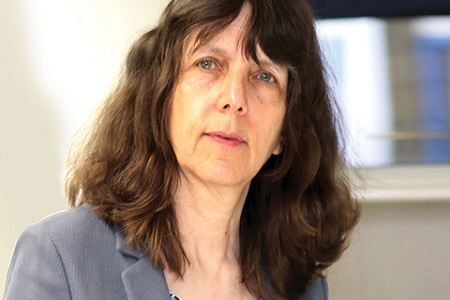 The clock said midnight and Prof. Dana Wolf's phone was ringing. She recognized the number. It belonged to the head of Israel's Ministry of Health National Laboratory Division. Just as the COVID-19 pandemic was spreading, Israel's central lab, exclusively designated to deal with coronavirus tests, was closing because its staff was infected with the virus they set out to diagnose.
"Dana," the caller said, "you have to take over." Prof. Wolf's heart began beating fast. "I felt as if I had nothing less than a war to fight," she asserted. Though she had treated patients and investigated viruses for years, it was nothing compared to what she faced.
Born in Haifa to parents who immigrated from Romania and Brazil, Prof. Wolf loved literature and excelled at mathematics in high school. She decided to become a doctor when she was in 12th grade. "Medicine seemed to be the ideal combination of humanities and science," she explained. She graduated from the Hebrew University-Hadassah School of Medicine and, after military service, specialized in internal medicine at a time when the human immunodeficiency virus (HIV) was discovered as the cause of AIDS.
"We didn't know much about viruses at the time," she noted. "But with the efforts to stop the death toll from AIDS, virology became a rapidly growing field. The strategies for treating viral infections were developing." 
Today, SARS, Zika, Avian flu, MERS, Ebola, and, of course, COVID-19 are household names. More of these cross-species transmissions, moving from animals to humans, are expected to emerge in the future, continuing to threaten humankind.
"With no one able to predict where or when the next pathogen threat will hit, it becomes more urgent to understand virus structure and mechanism of transmission, disease, and protection," she stated. That's what her team has been doing in the acclaimed Hadassah Clinical Virology Laboratory that she heads.
In 2019, the lab was investigating cytomegalovirus (CMV), a threat to pregnant women and newborns. As Prof. Wolf explained, "Most people don't know they have CMV because it rarely causes symptoms and complications in healthy people. But it caused terrible suffering for AIDS patients and still threatens transplant recipients. It can also result in serious birth defects in a baby if a pregnant woman is infected." 
Researchers at Hadassah are closing in on the maternal-to-fetal viral spread and new antiviral approaches that will change the outcome of congenital infection. Her research has already successfully identified a novel compound that is highly active against CMV. She is among the leaders of a European consortium working toward a CMV vaccine.
"With all our experience and expertise in viruses, we were ready to rise to the challenge when COVID-19 emerged," she said. Hours after the call from the Ministry of Health, Hadassah Medical Organization Director-General Prof. Zeev Rotstein approved increases in the lab size and activity. This coincided with his insistence that all Hadassah hospital staff needed to be tested regularly to avoid long quarantines. The enlarged lab meant that testing could be done in-house.
"Pre-COVID-19, we were a mid-sized, steadily growing lab, doing about 150,000 tests for various viruses a year," said Prof. Wolf. With the pandemic's onset, the lab established a partnership between Hadassah Medical Organization and the Hebrew University Faculty of Medicine. "Scientists and students from the Hebrew University pitched in. Soon we were doing more than 2,500 tests a day, and not a single worker became infected." 
To eliminate bottlenecks, the team developed a method of RNA extraction and pooling of samples so that eight samples, each marked with a bar code, could be tested at once.
"No one needs to be convinced now that investment in a better understanding of viruses crossing the human-animal interface and the scientific understanding and combating of viruses is essential," said Prof. Wolf. "When I look back at what we did, it's like a miracle. But miracles don't happen in a vacuum. The trust placed in us by donors, administrators, and colleagues put us in a position to help Israel and humankind."
As featured in the 2019 Hadassah Annual Report, released in July 2020.
Read more:
Learn about Prof. Dana Wolf's efforts to produce serum to help seriously ill COVID-19 patients.
Read our most recent COVID-19 updates from Hadassah's hospitals.