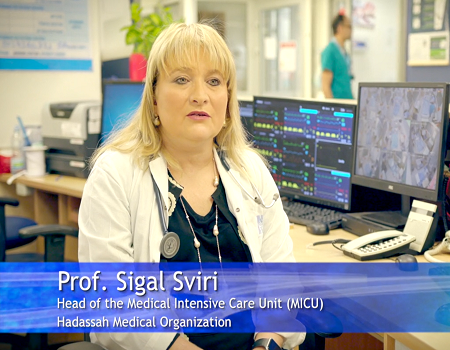 Prof. Sigal Sviri is the director of the unit at Hadassah Hospital Ein Kerem where frequently a patient's organs are failing all at once, and the challenge is to stabilize everything. It's the unit that cares for patients with severe, complex medical problems – the Medical Intensive Care Unit, known as the MICU.
As advanced treatments and personalized medicine save the lives of more cancer patients, Prof. Sviri explains, MICUs are also needed to help them weather the complications of their regimens.
Patients like Dr. Samuel Abramson, who deteriorated rapidly after contracting swine flu, and Orel Yarev, who could barely move after drinking some tea he bought on the internet, would not be alive today were it not for Hadassah's MICU.
Hear the stories of these patients' medical deterioration and recovery in Prof. Sviri's MICU. Listen to Prof. Sviri's Hadassah story, beginning with how her connection to Hadassah was forged the day she was born.