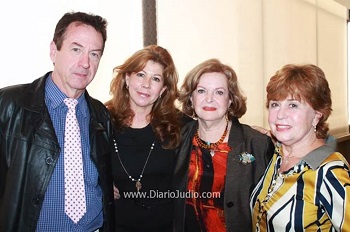 Prof. David Linton, Emergency Room Physician in the Hadassah Center for Emergency Medicine, and head of Hadassah's Emergency Transport Unit, iMER, was enthusiastically received in Mexico.
Several members of Hadassah Mexico opened their homes to friends and family, so that they could hear Prof. David Linton speak about his life saving work. He and his team of doctors and pilots fly to wherever they are needed to airlift patients to Hadassah.
Prof Linton also spoke to an audience of about 50 Mexican community leaders at the Conference of the Women's Federation and Women's Division of Keren Hayesod (UJP). He spoke about "Enslaving Technology to our Patients' benefit": Early refinement of diagnosis and getting the right patient to the right Doctor at the right time!"
Prof Linton also took the time to visit the Mexican Minister of Health and his staff to discuss possible future collaboration between Hadassah and Mexico. He also spoke to ICU doctors at a conference of the Mexican National Nutrition Institute.
Please click here for a video of an ENLACE JUDIO interview with Prof Linton http://www.enlacejudio.com/2013/06/12/entrevista-con-el-prof-david-linton-dir-de-la-unidad-de-cuidados-intensivos-del-hospital-hadassah/
Please click here for an English translation of the Jewish Link interview with Prof. Linton.
Please click here to see article about iMER.