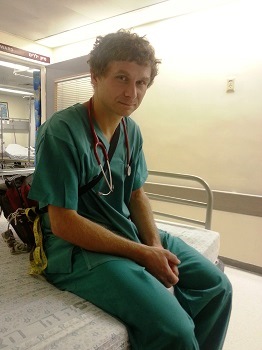 While on a break from serving with the Israel Defense Forces (IDF) in Gaza, Dr. David Rekhtman, head of the Pediatric Emergency Room at Hadassah Hospital-Mount Scopus, came to visit one of the dozen wounded soldiers from his unit. This was his first day back at work after three weeks of serving in reserve duty.
With every step, Dr. Rekhtman is stopped by co-workers, who engulf him with hugs. "So glad to see you back," they say. He gets a briefing: one child was sent home after being treated for drinking kerosene. Another had a fever. Another needed a CT scan. One of the residents needed his advice about a Palestinian baby who had seizures. Dr. Rekhtman wants to check the baby's head circumference, but remembers that his tape measure is still in the kit bag, packed for Gaza. The resident tosses him another one. The child will undergo further examinations. He wants a neurologist to stop by.
Does it feel unusual to be examining a Palestinian child after caring for his soldiers in Gaza? "Not at all," says Dr. Rekhtman. "I see a sick person in front of me and use all the training I have to try to make him or her better. That part is simple."
Dr. Rekhtman, 39, was born in Yekaterinburg, the fourth largest city in Russia (formerly called Sverdlovsk) and completed medical school there at the Academy of Medicine. He experienced anti-Semitism and soon after found himself on a trip to Israel. Visiting the Holocaust museum, Yad Vashem, he had an overpowering sense of Jewish peoplehood and decided to make aliyah.  Dr. Rekhtman completed his residency in pediatrics at Hadassah and served in the IDF. He is married to Hadassah Nurse Yifat Rozental Rekhtman, who holds both bachelor's and master's degrees from Hadassah.  She serves as the coordinator of children's heart surgery at Hadassah Hospital-Ein Kerem.
"I took part in the second Lebanon War as an IDF physician," relates Dr. Rekhtman. "I felt a greater sense of security this time when I crossed the border with our troops. It may be because the army took away our cellphones and I could focus wholly on our mission. The hardest part of the day is the waiting and not knowing what's coming. When we are in battle, I know what to do."  His battalion had the job of engaging in battle so that the combat engineers could safely come into the area and destroy the tunnels and take apart the boobytraps.
When asked if he'd ever seen injured or sick children like those he routinely treats in Hadassah's Emergency Room, he replied: "Despite what you hear in the media, the areas we fought in were devoid of civilian populations. I never saw a hurt or sick child while I was there."
How does his experience as a soldier in combat make him different from medical colleagues he meets at conferences abroad?
"You are a pediatrician like all your colleagues," he says. "But serving on the front line gives you experience making quick and daring decisions. You have a very strong sense of the price of life. You have to deal with death in a more intense way than you do inside a hospital. You bring that experience back with you, whether you are treating patients or doing research."
Dr. Rekhtman is proud to serve his country and feels that the members of his unit are his children. Nonetheless, he was so happy to spend the Sabbath with his wife and two small children before heading back to work. "I was worried the whole time," comments Mrs. Rekhtman, "and it wasn't easy for me and the children, a six-year-old son and a four-year-old daughter. We were so happy to have him home."