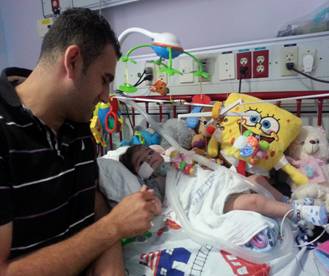 Because of generous friends in Australia, through the interfaith Rozana Project spearheaded by Hadassah Australia, the enormous burden of a Gazan baby's hospital care at the Hadassah Medical Center has been greatly lessened.
Since he was born more than a year ago, Abdul Nasser has lived most of his life in the Pediatric Intensive Care Unit (PICU) of Hadassah University Medical Center at Ein Kerem.
Musab and Majd Alafandi had met through a cousin and fallen in love right away. They were a young couple with everything to look forward to. They married, and were delighted when they were expecting their first child. Living with Musab's family in Abu Dis, a village near Jerusalem, they were saving up for their own place.
Then their world turned upside down.
Madj went to Ramallah for a routine ultrasound scan when she was 20 weeks pregnant. She could see something was wrong by the look on the doctor's face. He shook his head. He said he was sorry, and that their baby had extremely serious heart defects and would die before or immediately after birth. Madj was shocked, devastated, and scared.
"I was very sad, too," said Musab, "but I tried to be there for my wife."
They sought a second opinion in the Al Mukassed Islamic Charitable Society Hospital in Jerusalem. The cardiologists and cardiothoracic surgeons agreed that their unborn baby's heart was malformed.
Yet, at Hadassah Hospital, even such a complicated case had a chance, they were told. The doctors at Al Mukassed had excellent connections with their colleagues at Hadassah and advised the couple to make arrangements to give birth and to receive prenatal and postnatal care there.
"We'd never been to Hadassah, but of course, we'd heard of it. Just the name gave us confidence," said Musab. "Suddenly, we both had hope. Life was not quite so bleak."
At Hadassah Hospital's Ein Kerem campus, the baby was delivered by cesarean section to prevent any stress of a regular birth. They named him Abdul Nasser for his paternal grandfather. He was handsome and a good size: 3.4 kilos (7 pounds, 8 ounces). Nevertheless, he had to be rushed to the premature baby unit immediately to be supervised carefully until surgery could be performed on his heart.
The surgeon warned the parents that the risk was substantial: The baby had a single ventricle (which means one pumping chamber instead of two) and congenital heart block (the electrical system of the heart was broken). Patients like him often don't survive the complicated surgery he would undergo, Cardiac Surgeon Dr. Eldad Erez told them.
Abdul Nasser, however, survived the surgery and was transferred afterward to the PICU, where intravenous lines and ventilators were attached to monitor his every function. Day and night, doctors and nurses helped fight back infection and ensured that he was getting air and food.
"The bad news was that in addition to his troubled heart, this baby had very sick lungs," said Dr. Philip Toltzis, head of the PICU. "That's a tough combination to cope with."
"It was touch and go," said Musab. "We were warned several times to prepare for the worst, but every time our little boy pulled through, with the help of the staff. He was a fighter, and so were the doctors and nurses." On the Jewish dress-up holiday of Purim, the staff dressed Abdel Nasser in a cute beetle costume. And when he turned one, everyone in the unit celebrated his birthday. "He's always getting presents from the nurses and staff," said Musab.
Months into Abdul Nasser's care, as he breathed through a mechanical ventilator inserted through his trachea, one resident noticed the sick little boy was smiling. He pulled out his phone and took a picture, which he showed around the unit like a proud uncle.
"That was a turning point," said Dr. Toltzis. "You can't believe how happy and encouraged that smile made us."
There was absolutely no difference in how our son was treated in the PICU from the way the Jewish children were treated," said Musab. "He was perhaps pampered more because the staff knew we were a little further from home and the grandparents couldn't often come. Nearly everyone speaks some Arabic, and many are fluent. We never have any trouble communicating."
 "Seeing Abdul Nasser alive, getting well, and smiling makes us joyous, and keeps us in the PICU family doing what we do," said Dr. Toltzis. "That's why we're here, in intensive care. For us, it wouldn't have mattered what his background was, but we do have an additional sense of satisfaction that problems of area politics have not stood in the way of success."
Abdel Nasser is now getting ready to go home. He'll need additional surgery, but not for a while. Said his dad, "We can't thank you enough—the hospital and the good people in faraway Australia for their support. We want to help in any way possible so that more children can take advantage of this life-saving care."