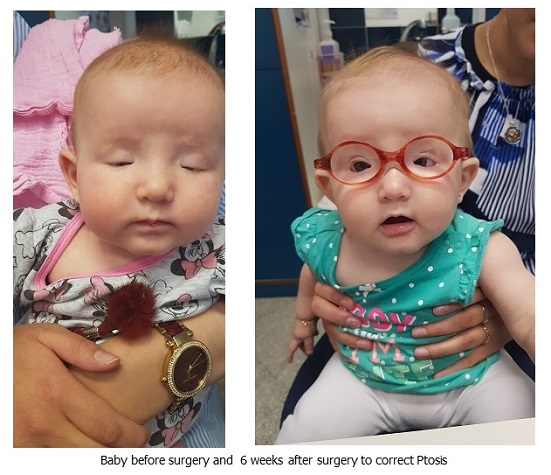 When a four-month-old infant with severely drooping eyelids was brought to Hadassah Medical Center's Pediatric Ophthalmology Unit recently, Dr. Irene Anteby, Head of the Unit, immediately recognized that the baby was suffering from severe congenital ptosis.
Ptosis is a condition where the upper eyelid droops over the eye. In congenital ptosis it is often the result of a poorly functioning or underdeveloped levator muscle, the muscle that lifts the eyelid. Depending on the degree of the weakness, the eyelid can completely cover the pupil (the black dot in the eye that lets light in) and block normal vision. Children with ptosis that goes uncorrected can develop serious vision problems as well as head and neck injury from having to raise their chins and tilt their heads to try to see better.  And when most of the visual axis of an infant's eyes is covered, the infant loses the potential to develop vision, making surgery urgent.
That's why Dr. Anteby immediately referred the infant to oculoplastic surgeon Liat Attas-Fox. As Dr. Attas-Fox explained, "Her eyes were nearly completely closed bilaterally, making this case an emergency. I saw her the same day and performed surgery within a week."
The delicate procedure involves raising the eyelid using the frontalis muscle in the forehead, while ensuring that the eyelid will close as well as open. Since the baby's surgery, Dr. Attas-Fox reported, "she is much more active and observant. She spends less energy raising her chin to try to see. Her parents feel they have a new happy baby, which is really nice." Her vision is now being corrected with glasses.