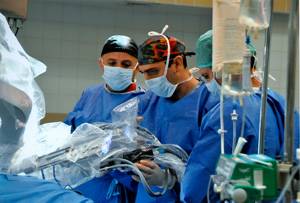 The latest addition to the Hadassah surgical team has four arms and a computer console and provides more precise, safer and less invasive surgery than ever before.  
If you were undergoing surgery at the Hadassah–Hebrew University Medical Center in Jerusalem and able to look down at yourself, your first instinct may well be to shout to your surgeon, "Hello-o-o! I'm over here!"  Instead of standing over you, capped, gloved, gowned and murmuring "Scalpel, please" to the surgical team, your surgeon is sitting at a computer console three feet away, back turned firmly in your direction.
Alarming as it looks, however, you can rest assured that not only are you central to the event, you are also receiving more precise, safer and less invasive surgery than ever before. As for the three-foot distance between the patient on the table and the surgeon at the console: The system he is using was, in fact, designed for surgeons on Earth to operate on astronauts in space.
"Intergalactic surgery has yet to be performed, but this remote robotic surgical system has been successfully used between continents," says Dr. Yoav Mintz, senior surgeon at Hadassah and head of its Robotic Assisted Surgery Service. "It was launched in September 2001 [two days before 9/11], when a surgeon in New York removed the gallbladder of a patient in France."
Developed by NASA and then passed to the United States military for use in Iraq, the system's patent was then bought by the California-based company Intuitive Surgical. It received Food and Drug Administration approval in 2000. Intuitive named it the da Vinci® Surgical System, with a nod to Leonardo, credited with designing the world's first robot, a humanoid automaton he sketched in 1495.
When commercial manufacture of the da Vinci® began, surgical robotics was little more than a medical curiosity. Today, it is an established tool that significantly improves clinical outcomes and helps patients rapidly return to active and productive lives.
"Robotics is, of course, a misnomer," says Dr. Mintz. "The da Vinci® is not designed as autonomous and has no decision-making software. It is a computer system meant to seamlessly replicate the movement of the surgeon's hands with the tips of microinstruments. It is a super tool for laparoscopic or keyhole surgery, operated by the surgeon."
Dr. Mintz learned this very different kind of surgery during a two-year fellowship in Minimally Invasive Surgery and Robotic Assisted Surgery at the University of California in San Diego. At the same time, his colleague, Hadassah urologist Ofer N. Gofrit, was in a minimally invasive urologic oncology fellowship program at the University of Chicago Medical Center. Both surgeons, highly experienced in open surgery, were quickly convinced of the potential of the technique, and they called Dr. Shlomo Mor-Yosef, director-general of the Hadassah Medical Center.
"I said that Hadassah had to have a da Vinci®," says Dr. Mintz. "I told him: 'It's the future of surgery. We can't call ourselves a leading surgical center without it.' He didn't need persuading. With his blessing, I got in touch with Intuitive."
Some 1,200 da vinci® systems have been sold to hospitals in the United States and Europe. Israel, however, has only one. It arrived at Hadassah last year and came into operation early in 2009.
"It comprises a computer console and a cart with four robotic arms, which stand next to the patient," says Dr. Gofrit. "One arm controls a dual-lens camera that transmits to the console, showing three-dimensional images of what is happening inside the patient, magnified 12 times. This sidesteps the main disadvantage of traditional laparoscopy, which provides only two-dimensional images."
The other three arms manipulate surgical instruments–scalpels and scissors–which the surgeon controls with two foot pedals and two hand controls. He or she thus performs surgery seated at the console, eyes on the screen, rather than standing for hours over the patient.
But the system offers far more than the surgeon's comfort. "There's always a degree of tremor in the human hand when manipulating long instruments," says Dr. Mintz. "The da Vinci® electronically filters the movements of the surgeon's hands to eliminate tremors and then scales those movements down. That is, the surgeon's hand movements are translated into micromotions in the da Vinci®'s arms, so I can turn a two-inch movement I make at the console into one of less than half an inch inside the patient. The surgeon controls the degree of translation from one to one, up to one to five."
In addition to steadying and scaling the actions of the surgeon, the da Vinci® gives unprecedented flexibility. "It is designed to improve on conventional laparoscopy, in which we operate standing over the patient, looking up at a two-dimensional video monitor, using hand-held, long-shafted instruments that have, essentially, two movement options," explains Dr. Mintz.
Conventional laparoscopic instruments have pincers at the end that can be opened and closed, and the instrument as a whole can be rotated—although inside the patient, rotation is restricted. The da Vinci®, however, allows wrist movement that is even fuller than that of a surgeon's hand in open surgery. The shaft rotates, and so do the pincers on the end. More than that, the pincers have two joints, each able to turn 90 degrees.
"There is so much freedom of movement, you need the computer software to operate it," says Dr. Gofrit. "Your surgical skills are enhanced to the point that you have the hand of Superman!"
As a urologic surgeon, Dr. Gofrit uses the da Vinci® principally in kidney and prostate surgery. "It gives all the advantages of laparoscopic surgery," he says. "Hospital stays of 24 hours rather than a week or more. Tiny incisions rather than openings large enough to accommodate the surgeon's hands [a quarter-inch compared with 8 or 9 inches], which means less trauma, less blood loss, quicker healing time, and infection is almost unknown."
It is in prostate surgery that the da Vinci® truly comes into its own. "Not all prostate cancer is treated surgically," explains Dr. Gofrit. "But in many patients there are clear advantages to surgical removal of the diseased tissue."
When conventional laparoscopy was initially developed during the early 1990s, it proved unsuitable for prostate removal. "Laparoscopic radical prostatectomy is very difficult," notes Dr. Gofrit. "The gland is deep in the pelvis, in front of the rectum and below the bladder, and it can be approached only from above. With two-dimensional images, this is so difficult as to be impossible. So, we continued using open surgery in prostate removal–until the da Vinci®. When you can see what you are doing on a 3-D screen, it becomes easy and very successful surgery, resulting in rapid return of both continence and sexual function. In the United States, the da Vinci® is used for 70 percent of prostatectomies."
Hadassah is currently extending the use of the multipurpose da Vinci® system from general and urologic surgery to gynecology.
Dr. Mintz, who is director of Hadassah's Minimally Invasive Surgery Learning Center, is training Hadassah gynecologist Avi Benshushan in the technique. The use of the da Vinci® in hysterectomies in the United States—200,000 a year—is even greater than for prostatectomies, notes Dr. Mintz. The next steps in Israel will probably be the system's use in both otolaryngology and cardiac valve repair.
Meanwhile, Hadassah uses the da Vinci® no more than twice a week because Israel's health insurance funds have yet to catch up with it. As with much else that Hadassah has introduced into Israel over the years, the medical center is initially subsidizing the innovation.
"Using the da Vinci® is more expensive than conventional surgery," says Dr. Mintz. "Its maintenance costs run to about $150,000 a year, and with each procedure we use around $1,000 more of disposables than in conventional laparoscopy. Add to that hospital stays are reduced from seven nights to one—health insurers reimburse the hospital for each night's stay—and it's clear why we're losing money with every da Vinci® patient."
Hadassah Hospital, however, has always been about more than balancing its books. "Our mission is excellence—pursuit of the best in people, in knowledge and in tools," says Dr. Mintz. "The reimbursement issue will be settled, and then we'll be able to use the technique as extensively as it warrants. Meanwhile, we are promoting our shared vision of where surgery and our medical center are headed."