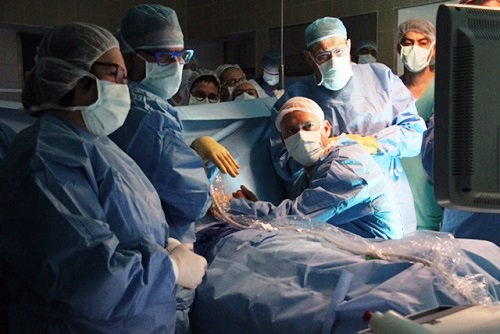 ISRAEL21C.ORG has reported that a risky and delicate procedure was performed for the first time in Israel this week by an interdisciplinary team of Hadassah Medical Center physicians who repaired a severe heart defect in a 28-week-old fetus in the womb.
The medical team widened the baby's aorta using a balloon technique similar to adult catheterization.
"In the process of catheterization, under epidural anesthesia for the mother and anesthesia for the fetus as well — because we do not want him to feel pain — we inserted a very delicate needle through the mother's abdominal wall, directly to the left ventricle of the fetal heart," said Dr. Yuval Gielchinsky, head of fetal medicine at Hadassah's Ein Kerem campus.
The pregnant mother had approached Dr. Azaria Rein, director of Hadassah's pediatric cardiology department, after tests showed her baby's heart defect.
"The diagnosis was a critical narrowing of the aortic valve, which is also accompanied by severe damage to the function of the left ventricle, which was barely able to contract and perform its function," said Rein.
The baby's parents were told that without treatment, the left ventricle would likely degenerate and not be able to transfer blood to the baby's body after birth. They decided to try the catheterization procedure.
Gielchinsky said this specific complex surgery is performed in only a few medical centers around the world but had never been done in Israel before.
"We are in a new medical era in the field of embryology and cardiology, which offers not only diagnosis but also prenatal care. The operation carries an increased risk to the fetus, but we believe that its success will greatly improve the baby's chances of a healthy and long life."
The full success of the surgery can be assessed only after the baby is born, but the doctors were pleased with initial results. Fetal echocardiography shows that the function of the left ventricle in the baby's heart has improved significantly.
"The operation went through without complication," noted Dr. Sagi Gavri, director of pediatric catheterization. "Immediately after the operation we saw an improvement in blood flow through the valve."
Other members of the surgical team included Dr. Simcha Yagel, head of OB-GYN at Hadassah, senior OB-GYN Dr. Nili Yanai and anesthesiologist Dr. Carolyn Weiniger.
Report by  Abigail Klein Leichman of  ISRAEL21C.