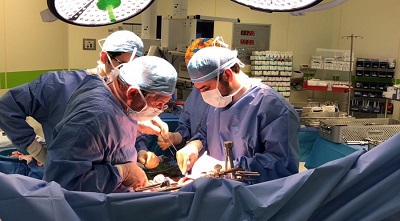 The Hadassah Medical Center completed the past year with a record number of transplants in its Transplantation Unit, one of the largest and most active in Israel.
"In 2017, the transplantation team performed 22 liver transplants, 100 percent more than in the previous year, and 44 kidney transplants, an increase of 95 percent as compared to the previous year," reports Prof. Hadar Merhav, Director of the Transplantation Unit.  "Although these numbers placed Hadassah at the forefront of Israeli hospitals," Prof. Merhav emphasizes, "it is not only the high numbers that matter. The success rates are also among the highest in international standards."
Prof. Merhav explains: "The hospital's transplantation system, which provides solutions for patients from all over the country, includes a multidisciplinary team, consisting mainly of surgeons, nephrologists, pathologists, anesthesiologists, nurses, coordinators, surgical room staff, social workers, and administrative personnel. The unit relies heavily on the Imaging Department, the Department of Tissue Classification, the Department of Pathology, the Blood Bank Services, the Urology Department, and the Department of Infectious Diseases. Almost all the services and other hospital departments are involved in one way or another in treating the complex patients, and all of them have successfully participated in the transplants. "
Prof. Merhav adds that Hadassah also took part in a cross-transplantation, in which the relative of a patient in Beilinson Hospital in Petach Tikva gave a kidney to a patient hospitalized at Hadassah, while the husband of the Hadassah patient donated his kidney to the patient hospitalized in Beilinson. "Finding such a 'cross' with a stranger is unusual and exciting," he notes.
Over the past year, the Hadassah team performed liver transplants on patients with acute liver failure, often necessitating very complex and urgent surgery.  In one two-day marathon, five liver transplants and three kidney transplants were completed, all successfully.
"Every transplant," says Dr. Merhav, "gives new life not only to the patient, but also to both the living donors and the families of deceased loved ones who decide to donate their relative's organs. The act is heroic and I encourage every person to sign an Identification Card for organ donation. "