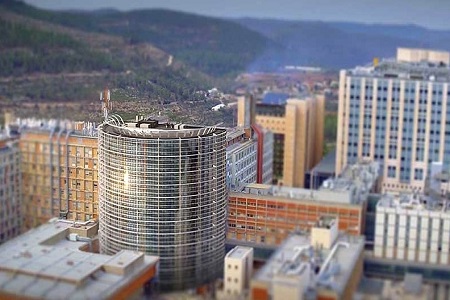 An architectural icon of Jerusalem's landscape for over 70 years, the Round Building at Hadassah Hospital Ein Kerem is on its way to a reimagined future. As architect Arthur Spector expressed, "The challenge is to save the icon but update it to become a completely contemporary inpatient building."
The COVID-19 pandemic caused Hadassah to pause in its renovation of the Round Building so that the structure could be repurposed as a COVID-19 hospital. But now plans are back on track. Mr. Spector, also the architect of the new Sarah Wetsman Davidson Hospital Tower at Ein Kerem, shared his vision for the building with Hadassah's major donors in a July 1 webinar. "Architecture," he said, "is a marriage of the art of the dream and the art of the real." Hadassah, he said, provides both.
Ilan Levy, head of Building and Maintenance at Hadassah, explained that the goal is to finish the infrastructure by the end of 2021 and to have the rest of the building nearly completed by the end of 2022. The building, with two new floors atop the existing structure, will add 250 to 300 beds to Hadassah's inpatient capacity, bringing Hadassah's total capacity on its two hospital campuses to about 2,000 patients. As Mr. Spector noted, "There is a critical shortage of hospital inpatient beds in Jerusalem," a city that is approaching a population of one million people.
With Hadassah providing 65 percent of the critical care in Jerusalem, the Round Building will house a much needed, expanded internal medicine intensive care unit, comprised of 16 beds, rather than the 9 that Hadassah has today. Internal medicine will be the major focus of the re-imagined Round Building, Prof. Arie Ben Yehuda, head of Hadassah's Division of Internal Medicine, reported. "The new building will put the internal medicine department well into the 21st century," he said. Commenting on the uniqueness of internal medicine at Hadassah, Prof. Ben Yehuda related that Hadassah is known for taking care of very complicated patients. He explained that as the population of Jerusalem ages, there is an increasing number of patients with more medical maladies that impinge on one another. With its comprehensive approach, Hadassah provides a "one-stop-shop to find the best medical solutions." In addition, he noted that Hadassah's medical residents are not afraid of difficult cases because they are trained to handle the gamut of complications. These residents know that Hadassah knows how to help those patients.
Prof. Ben Yehuda also emphasized that the configuration of the internal space in the renovated Round Building takes into account the importance of a welcoming environment and beautiful views. As he noted, we know that "environment and views affect not only the patients' psychological health but also their physiology." The building, therefore, features big windows to maximize exposure to Jerusalem's views, preserves privacy in semi-private rooms, and offers enough space for a family member to a sleepover.
Prof. Ben Yehuda reported that there will be four internal medicine units and a geriatric unit. In a year or two, he said, Hadassah will expand its current small geriatric unit into a Division of Geriatrics that will hospitalize its patients in the Round Building. In the meantime, Prof. Ben Yehuda explained that elderly patients who have been lying in bed for days will receive needed "reconditioning" before they leave, ensuring a smoother transition from hospital to home.
The new outpatient dialysis unit will be the first to be completed in the Round Building. Whereas now Hadassah has 12 patient bays, this new unit will initially have 26 bays and eventually 39.
"This is by far the most complex project I have ever dealt with," commented Mr. Levy. The challenge of working on an old building, which is still a functioning hospital—and a COVID-19 inpatient facility—added to the challenges. On a positive note, Mr. Levy explained that the timeline of completion for Jerusalem's new light rail coincides with Hadassah's timeline. This will make Hadassah Ein Kerem much more accessible for both staff and patients.
Miki Schulman, chair of the 360 Degrees of Healing Full Circle Campaign, reported that there are many naming opportunities, both within the new Round Building and for new projects at Hadassah Hospital Mount Scopus. To date, $23 million has been raised, with the goal—and Hadassah's commitment— to provide $91.2 million.
Supporters may contact Mrs. Schulman at mschulman@hadassah.org to explore options for participating in this gift to the people of Israel.
Watch here the webinar:
Watch next an update of the current situation of the Round Building project:
Watch next a video update about the 2 campuses of Hadassah Medical Organization in Jerusalem: