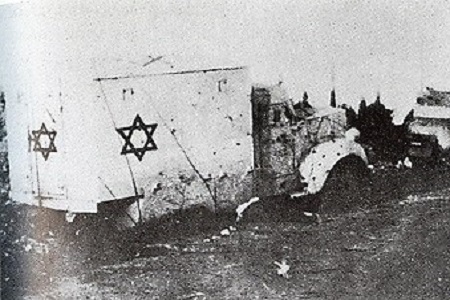 Hadassah Hospital Mount Scopus held a ceremony on March 17th, marking the 73rd anniversary of the massacre of the Hadassah convoy as it made its way up to the hospital.
Audrey Shimron, director of Hadassah's Offices in Israel, laid a wreath at the memorial site in honor of the 78 members of the medical team who perished when the convoy was attacked.
Dr. Tamar Elram, director of Hadassah Mount Scopus, led the ceremony. She noted that, when she thinks of the convoy, she realizes that we're all still traveling on a convoy moving forward, carrying on from where that medical team was cut off.
To learn more about the convoy massacre please visit: Despite Corona, Hadassah Convoy's Fallen Are Not Forgotten
Listen to an excerpt from her message.