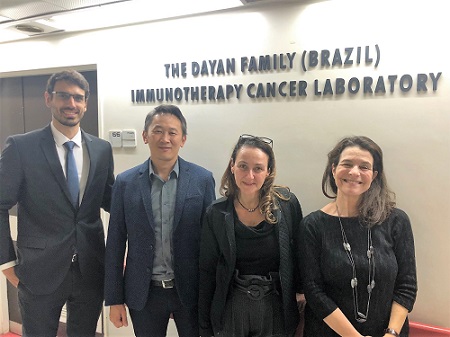 Researchers from Hospital Israelita Albert Einstein in Brazil spent the week of March 10-16 at Hadassah Medical Center studying with Prof. Michal Lotem and learning how they can bring advanced cell therapy to their country.
The Brazilians explained that only basic immunotherapy is available in Brazil, and those with financial means travel to other countries for advanced treatment. Dr. Gustavo Shvartsman, who led the Brazilian delegation, shared his desire to bring advanced immunotherapy treatment to all Brazilians through this learning partnership with Hadassah. Said Dr. Shvartsman, "At Hadassah we learned how to position this new project for the future of immunotherapies."
Prof. Lotem stated "I always question what our responsibility as doctors is to society. I was saddened to learn about the disparities in cancer treatment in Brazil. But I am encouraged by your presence here at Hadassah to learn and bring cutting edge immunotherapy to Brazil."
The training took place at "The Dayan Family (Brazil) Immunotherapy Cancer Laboratory" under the auspices of Roberto Bielawski from Brazil.
We will return with  more detailed material on this subject.