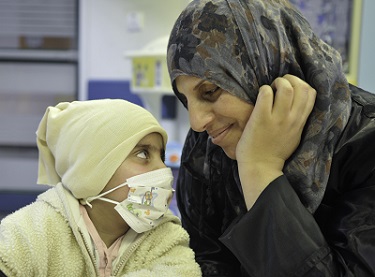 "Restoring dignity to children with chronic diseases is more than a lofty principle," says Prof. Eitan Kerem, head of the Division of Pediatrics at the Hadassah Medical Organization. "Dignity-enhancing therapy," he emphasizes, "can have a dramatic effect on the health and well being of both patient and family."
Prof. Kerem notes that chronic diseases typically affect children's lives in a whole slew of negative ways. Loss of dignity comes in countless forms. Not only do these children experience discomfort, loss of energy, and a restriction of their activities, but they also suffer social isolation from their peers and other family members. A chronically ill child may be plagued by feelings of self-consciousness and embarrassment if he has to depend on family members or caretakers for daily tasks or if the disease makes him different from other children. And there is also the humiliation of being shunned when the child has a cosmetic disfigurement.
At the same time, pediatric chronic diseases affect not just the child, but the whole family. Parents, for example, may experience a loss of dignity if they need help from other family members or friends or when they must accept charity from acquaintances. By the same token, in dealing with the health or welfare authorities, they sometimes face a lack of sensitivity to their child's special needs, which requires energy and strength that many times they lack and decreases their sense of dignity.
Prof. Kerem brings out that the nature of chronic disease is that in most cases it is difficult to restore dignity as long as the patient has the disease. Empowerment, however, is perhaps the most important step in restoring dignity and this is accomplished by giving the patient and/or family a leading role in deciding all aspects of care. The new sense of empowerment increases the family's sense of control and reduces feelings of helplessness and futility.
Another means of enhancing dignity is to extend counseling to the patient's peer group. Role playing can be used to teach children how to deal with physical and intellectual limitations in themselves and others. The counseling can also address the healthy child's fear that he or she may be affected by the same chronic disease and help alleviate discomfort in interacting with children who are different.
"A paradigm shift" is needed, Prof. Kerem says, if patients with chronic diseases and their families are going to be brought to the maximum level of dignity.