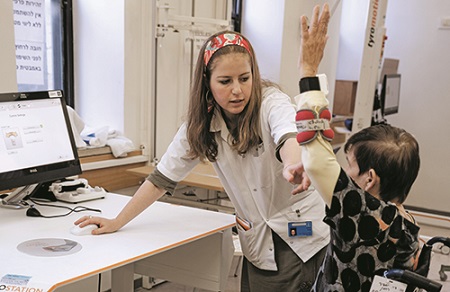 Hadassah's rehabilitation department opened on the Mount Scopus campus in 1976. A new facility, also at Mount Scopus, is now under construction, in an initiative led by Hadassah International. "I started my residency in the department in 1995, two years after my aliyah from Russia," Dr. Isabella Schwartz recounted. "I fell in love with the possibilities of rehab, its ongoing search for new solutions."
Today, she heads Hadassah's rehab team of 100 physicians and nurses; occupational, physical and speech therapists; and dietitians, psychologists, and social workers. Each week, she oversees the treatment of the department's 38 inpatients, 100 outpatients and hundreds more who attend the department's specialized clinics— for post-polio syndrome, which she runs herself, along with those for gait issues, prosthetic devices, speech difficulty, neurological problems and more.
"Whereas a decade or two ago, Hadassah's rehab patients were predominantly orthopedic, today, some 70 percent are here for neurological problems because more people are surviving stroke, brain, spinal cord and nervous system injuries, which can leave them with severe complications," she explained.
The remaining 30 percent suffer from multiple traumas, are victims of terror, road accidents or falls, or have musculoskeletal and spinal pain syndromes, joint problems, osteoporosis complications or cardiac issues. Around 10 percent are amputees—diabetics or military or civilian casualties. And ages range from mid-teens to over 100.
Read the entire article written by Wendy Elliman in Hadassah Magazine.
Main picture caption: A patient works to regain her mobility at Hadassah's Department of Physical Medicine and Rehabilitation.