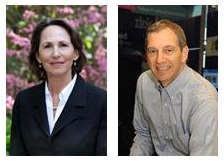 On May 1, 2014, Meir Mark was appointed Director of the newly established Hadassah International Israel (HII), with an office at Hadassah Hospital Ein Kerem. Meir's first task was to develop a Board of Trustees (BOT) for Hadassah International Israel, comprised of  leaders in the Israeli Financial and Business community. He approached personal acquaintances asking them to join the BOT and to recommend other potential candidates. From 6 board members in September 2014, the BOT grew to 28 in February 2015, and the search commenced for a President and  a Chairman of the HII BOT. Meir's goal was to engage personalities who are Israeli-based, with worldwide experience and connections.
As a result of this search, Sally Oren was nominated President and Rick Kaplan was nominated Chairman of the BOT.
Sally comes from the world of Philanthropy with many years of involvement with "Taglit", " Bat Sheva", "Israaid" and the Hadassah Joy Pollin Cardio Vascular Institutute at Hadassah. As Sally and her husband, the former Israeli Ambassador to the U.S., had just returned back to Israel, Sally was clearly the right person to approach for the position of President of the HII BOT.
Rick Kaplan is one of the leading large company managers in Israel. As the CEO of IBM Israel, Rick brings his vast global business experience to the HII BOT, and is willing to assist Hadassah in Business Development.
Under the leadership of President Sally Oren, and Chairman of the Board Rick Kaplan, HII is poised for great success.