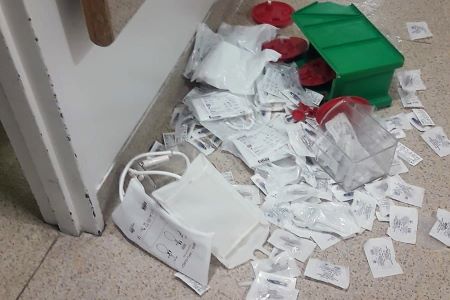 Dozens of family members stormed the Intensive Care Unit at Hadassah Hospital Mount Scopus on Monday evening and began rioting, breaking down the unit's doors and windows, beating staff members, and damaging computers and other equipment in the nurses' station.
The family of one of the hospital's patients had just learned that their relative had passed away.  He had been evacuated to Hadassah Mt. Scopus in critical condition, undergoing resuscitation on route to the hospital.
Hospital security guards, with the assistance of the Israeli Police, restored order. Fortunately, no patients were injured. The hospital staff was, of course, shocked by the violence. Two staff members, who were injured lightly, were taken to the emergency room for treatment.
Dr. Tamar Elram, director of Hadassah Mount Scopus, hearing of the incident, immediately came to the hospital. "We at Hadassah," she said, "express deep shock at the horrific event that has taken place here, at a hospital where we only think about saving lives and alleviating the pain of our patients. Our team, dedicated people who do their jobs faithfully around the clock, have been beaten and injured. We cannot believe that, after the efforts invested in caring for this patient, his family has rewarded them with such violence. One of the nurses told me, 'I have been a nurse for 21 years, and this is the first time I have feared for my life.' We will not rest until the full force of the law is brought to bear."
Dr. Elram added, "I stand here in sorrow, and I embrace each and every staff member. We will continue to do everything possible to maximize the staff's sense of protection in the face of violent incidents."
Hospital staff assemblies were held at both Hadassah Mt. Scopus and Hadassah Hospital Ein Kerem to reassure everyone that the hospital management does not believe any act of violence to be acceptable at the hospitals, and to convey support for them as they perform their jobs with so much dedication. The staff showed enormous resolve on both hospital campuses. Employees from every department and every denomination came together to say no to violence and to reaffirm that they will continue with their life-saving work, no matter what. Hospital managers who spoke at the assembly called on the Israeli Health Ministry to do whatever is necessary to prevent a repeat occurrence of such violence.
Jorge Diener, executive director of Hadassah International, noted, "Hadassah International condemns the violence against the Hadassah Medical Organization's heroes, whose work is not just healing, but also building bridges to peace every step of the way. We embrace Hadassah's  medical and nursing teams and all its hospital personnel, who work day by day, hour by hour to save lives."
Protests of the medical staff took place both at Hadassah Ein Kerem and Mount Scopus following the violent incident this week. Pictures below.