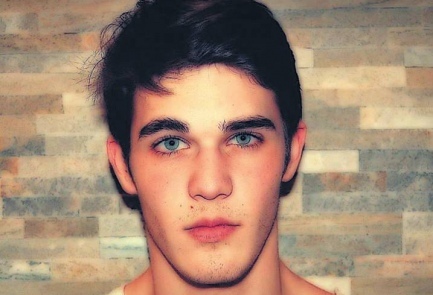 SEPTEMBER 10, 2013
David Fintzi was taking advantage of his first vacation time since entering the prestigious medical school in in Bucharest last year.
The handsome, dark-haired and unpretentious 19-year old had lots of friends in the Jewish community. He had studied at the Lauder Day School and was hoping to complete training as a youth movement counselor.  He had tickets for a trip to Israel later in the summer. In the meantime he decided to visit his friend R. who lived in the historic city of Iasi, Moldavia 400 miles away.
In Iasi, he and R. boarded the electric train to sightsee. No one knows exactly what happened next. David leaned out the open window-whether to take a photo or not-and somehow touched the electric cable. It all happened so fast, R. wasn't able to reconstruct the event. 27,000 volts of electricity ran through David's lean body. He collapsed. There is no advanced medical facility in Iasi.  A helicopter crew flew David to Bucharest. There he hovered between life and death for 72 hours. The Jewish community rallied around his distraught parents Andre and Manuela Fintzi. "I'm not sure when the idea of moving him to Israel came up," says Andre, a movie and stage actor. "But over and over, the idea was floated that Israel had enormous experience in burns because of all the wars. First we decided on Israel, and then on Hadassah. I'd heard of Hadassah, with its international reputation and experience."
In Romania, he had initial surgery that might have been a source of lethal infection.  He was close to death. The Jewish Agency got involved. The air ambulance service created by Hadassah's South African pilot/physician David Linton picked him up. On board were Hadassah doctor internist Marc Romaine and Hadassah nurse Kyrill Grozovsky as well as David's parents Andre and Manuela Fintzi. They huddled near their only child. As they took off to reach the height of 37,000 feet David's oxygen saturation fell, and bells started to ring. "We had to take him off the respirator at intervals and manually provide oxygen,"said Dr. Romaine. Two and a half hours after they took off, they made a bumpy landing in the small plane. Outside was hot and humid. They sped in an ambulance to Jerusalem. Hadassah has the only Skin Bank in the country.  Recovery from severe burns is slow and complex. Vital functions need to be further maintained, infection defeated, and the process of skin grafts which has begun needs to continue. In the month that David Fintzi has been a patient at Hadassah he is making good progress, both in stabilizing his overall condition, and in treating the burns. All of his doctors, those in the Intensive Care Unit and Dr. Neuman's staff, are optimistic. Nonetheless, while the medical team uses all its expertise, Manuela and Andre Fintzi have asked to send a message to the women and men of Hadassah. "You do fantastic work," said Andre Fintzi."Your doctors and nurses are doing their best to cure our son, our only son. We can't thank you enough. But I would like to ask the supporters of Hadassah to add their prayers this Yom Kippur for his full recovery."
Read the initial story in Israel Hayom  http://www.israelhayom.com/site/newsletter_article.php?id=11385
UPDATE SEPTEMBER 17, 2013
"Thank you," said David Fintzi to the supporters around the world who prayed for him over Yom Kippur.
He has moved from the Intensive Care Unit to a beautiful single room in the Sarah Wetsman Davidson Hospital Tower, on the 7th floor department of plastic surgery. The room is set up for patients who must be isolated from chance infections.
"The room is so wonderful," said his father Andre Fintzi. "It enables us to be with him around the clock, to help in the care, and to give him comfort."
Just last night, Fintzi regained his ability to speak when Prof. David Linton inserted a speech valve. His first words to his emotional parents Andre and Manuela Fintzi were questions about where he was and why he wasn't in medical school in Romania. They have explained to him about his injury, his flight to Israel, and the first steps of his recovery at Hadassah.
Said Andre," I realize even more now that Hadassah was the bridge from death to life for my son. I can't thank you enough."
UPDATE OCTOBER 6, 2013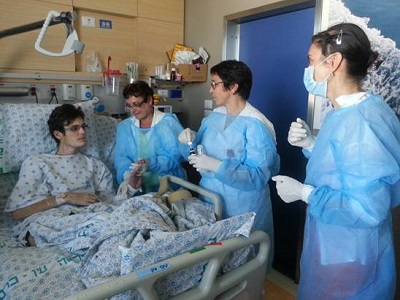 With breathing and eating support removed, David Fintzi, the Romanian medical student that had been airlifted to the Hadassah Medical Center after being electrocuted on a sightseeing train in Moldavia, is able to speak freely and eat once again. He continues to improve as he receives physical therapy to regain movement in his burned limbs. With Mr. Fintzi in this photo are (left to right): Occupational Therapist Vicky Hatuel, Plastic Surgery Nurse Fabienne Atal; and his mother, Manuela Fintzi. "We all love David," relates Ms. Atal, "and are doing everything we can to help."