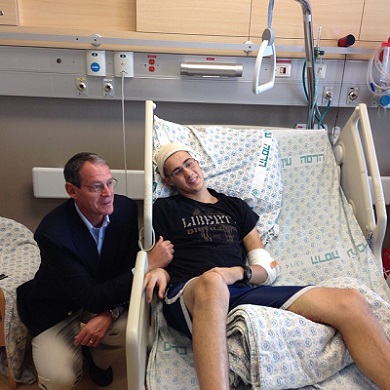 Ari Bina, 18,  was on his way home from school in  Gush Etzion on May 14, thinking of the musical program he was going to arrange in memory of a friend who had died from cancer. He is a student in the Har Etzion Yeshiva, combining Jewish studies with IDF service.
When Ari looked up, he saw a black Subaro crossing the highway and hurtling towards him. Ari suffered head injuries and a fractured leg. The Red Magen David ambulance hurried him to Hadassah Ein Kerem.
Later, the suspected terrorist, a man from Hebron, was arrested. Reportedly, he had gone out hunting Jews and saw Ari and three other teens at the bus stop. Ari was the most seriously injured.
Just the night before, on May 13,  Ari's grandparents  Rabbi  Aharon and Rabbanit Malke Bina, both celebrated Jewish educators,  attended a meeting of the Hadassah International Israel Board of Trustees in Ramat Aviv. Malke is a new Trustee. The speaker for the evening was Professor Yoram Weiss, Director of Hadassah Ein Kerem.  He described two projects that the Trustees may raise funds for, new Intensive Care Units and a PET scanner. The Bina's and Professor Weiss had never met before. Professor Weiss offered all of the attendees his card and made sure they knew he was always available for them.
On the 14th,  Professor Weiss received a text message that a badly injured patient was on his way to the Shock Trauma Center in the Swartz Center for Emergency Medicine. Then he had a phone call from the couple he's met the evening before: the young man was their grandson Ari. A phone call also came from Meir Mark, the Director of Hadassah International Israel, and Rabbi Moshe Klein, Hadassah Rabbi.
Prof. Weiss promised an immediate report. He is an expert in Intensive Care and joined the team treating Ari. A CT scan revealed that his head had been hit hard, and there were several epidural hemorrhages. Ari underwent brain surgery, and then was treated by the orthopedic team for leg fractures.
Ari was transferred to the Intensive Care Unit. "What a fighting spirit," said one of the nurses in the Intensive Care Unit. "He nearly forced himself awake and was ready to pull out his tubes."
Ari's  first concern on waking was that he would be able to serve in the IDF top intelligence unit he'd already been accepted to. Called Talpiot,( Hebrew for small mountain peaks), it's an IDF program that chooses 30 to 100 genius-IQ recruits and puts them to work to tackle tough problems. He wanted to make sure he was still smart enough to qualify.
This week, Ari had an infusion of stem cells to heal his hip fracture.
"Ari had a very difficult hip fracture," says head of Orthopedics Prof. Iri Liebergal. "We had to do a difficult bone graft, and gave him an infusion of stem cells to improve the healing."
He'll be leaving for rehab in the next few days.
Says Grandma Malke Bina, "My daughter had her babies in Hadassah Hospital.  I've used the outpatient clinics and also another grandson was an outpatient at Hadassah. So even before Ari, we knew  first-hand about  Hadassah's excellence. Now, even more so, can I appreciate how important Hadassah Hospital is to all of us."
In the meantime, Ari's room in the orthopedic department on the fifth floor of the Sarah Wetsman Davidson Hospital Tower is full of music. Middle Eastern rock and lyrical music, Simon and Garfunkle.  His parents Moshe and Rena, his grandparents Malke and Rabbi  Bina, are often nearby.
Last week, author Daniel Silva came by. "'Ari' is the best name for a hero," said Silva. (See photo above).
A student group from the University of Maryland, where Rena Bina did her doctorate, came with get-well wishes and to be inspired by Ari, who greeted them all in English and with a devastating smile and his upbeat spirit.