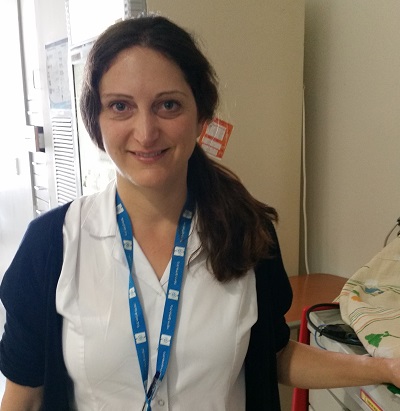 Hadassah Medical Center Pediatric Head Nurse Bracha Grossman finished the 42 Kilometer (26.2 Mile) 2017 Jerusalem marathon with a smile.
A nurse often walks many miles while doing her job, but when Head Pediatric Nurse Bracha Grossman gets home, she forgoes coffee and cake for a run around the town of Elazar. Rain or shine, even though she is married with four children aged 17- 3, she changes her shoes and runs a circle that takes her through the Gush Etzion hills, which are even higher than those of Jerusalem.
A graduate of the master's degree in clinical nursing at  the Hebrew University-Henrietta Szold Hadassah School of Nursing, Grossman, 37, was delighted to be running in the marathon in her "home of Jerusalem."
"I was thrilled to pass Mount Scopus, particularly this year when we are celebrating the reunification of Jerusalem and the return of the keys to Hadassah's Mount Scopus Hospital. I also loved running nearby the Panorama in Talpiot and seeing the walls of the Old City."
Grossman didn't have to practice much, because three weeks earlier, she had completed the Tel Aviv Marathon, running the same number of kilometers. "Tel Aviv was a little easier because it's a flat city, but the emotional charge I get from running through Jerusalem carries me through. I'm ready to do it again tomorrow!  I invite all Hadassah volunteers who run to come and run with us here. We're proud to represent Hadassah's nursing tradition of nearly 100 years."
Hailing from 60 countries, 35,000 people participated in this year's Jerusalem Marathon. Runners from Hadassah Medical Center and the Hadassah Meir Shfeya Youth Village were among them. Participants had a choice of running a full marathon, (as Grossman did), or completing a half marathon, 10 k, 5 k, or a family walk of 1.7k.