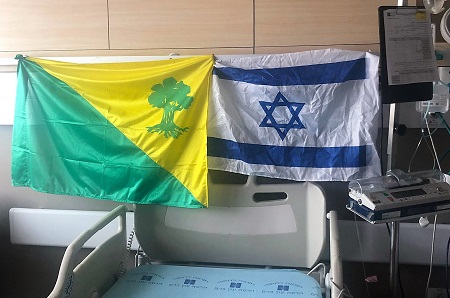 Ori Hamo, who grew up in San Diego, California, insisted on going to Israel to serve in the Israel Defense Forces (IDF). "Both of you proudly served the country," he told his parents, Hagit Cohen Hamo and Kobi Hamo, who were born in Israel. "You sent me to a Zionist school and a summer program with Israeli scouts in Israel. Now it's my turn to serve."
Though 7,600 miles away from home, Ori volunteered for combat duty. "It's very hard as a mom to have your son so far away," Hagit says, "but we're so proud of him."
Hagit teaches in San Diego's Jewish Academy. In January, the academy was celebrating "Israel Week." Hagit's fifth graders dressed up as characters from Israel's past and present. Audrey Levine, leadership vice president of Hadassah Southern California and a colleague of Hagit's, volunteered to do a slide show for the children about Hadassah founder Henrietta Szold.
"I was particularly moved by the images of the Chagall Windows at Hadassah Hospital Ein Kerem," relates Hagit. "Little did I know that I would be seeing them in person very soon."
On February 7, Ori was marching with his group of soldiers to the Old City for the traditional swearing-in ceremony at the Western Wall. It was 2:15 a.m., and the Jerusalem streets were quiet.
Suddenly, a terrorist from a Jerusalem neighborhood drove a passenger sedan into the soldiers. Ori, whose jacket bears the tire marks, suffered multiple injuries and is now receiving treatment from orthopedists, ophthalmologists, and plastic surgeons at Hadassah. Among his many visitors this week, aside from his parents, was Israeli musician Idan Amedi, who serenaded him. Ori, a musician, and singer himself reached for the guitar and, despite his many injuries, played one of Idan's songs.
"We see his survival as a miracle," says Kobi.
Mom Hagit adds, "I immediately wrote to Audrey and the women of Hadassah to tell them I was now at their wonderful hospital, and to say thank you."
Latest news: Ori has left the hospital. He will return for further treatment with Hadassah's specialists in the days to come.
Picture caption: Ori Hamo has left the hospital, but his flags remained in his room in the Sarah Wetsman Davidson Hospital Tower. The flag on the left is from the Golani infantry brigade.