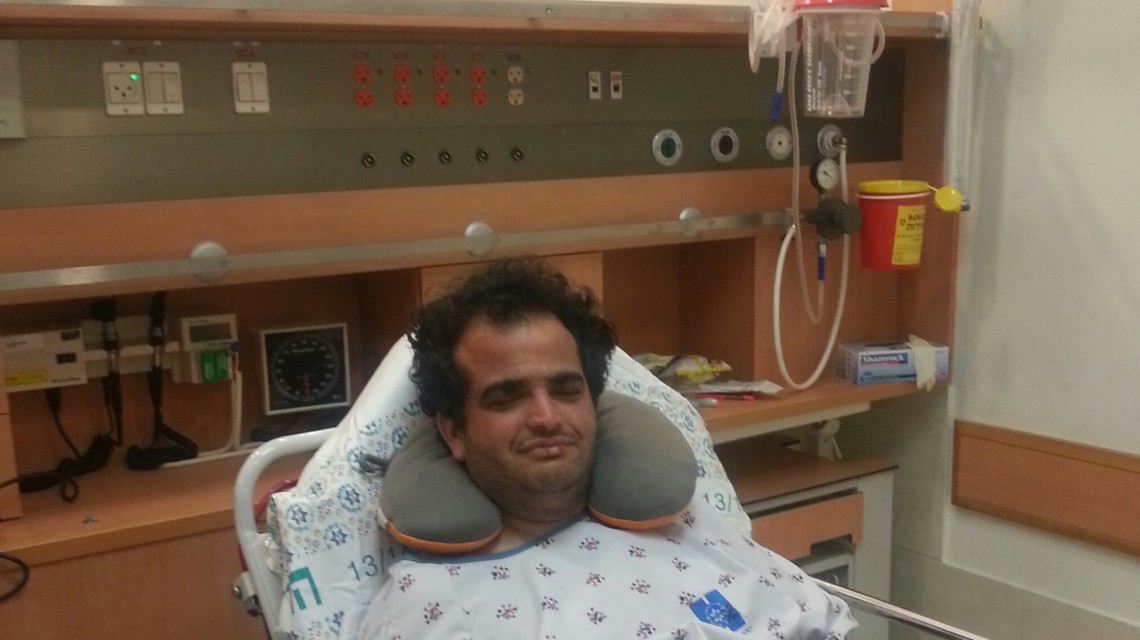 "It was wonderful to see Prof. Avi Rivkind [head of the Hadassah Medical Center's Trauma Unit] come to take us home," said Roey Fatal, 32, of Jerusalem, one of seven Israeli survivors of the avalanche in Northern Nepal. Roey is now being cared for in Hadassah's Judy and Sidney Swartz Center For Emergency Medicine, surrounded by family and other survivors, who were brought back to Israel on a private plane donated by an Israeli businessman.
Prof. Rivkind, world-renowned trauma expert, flew in to Nepal to evaluate the situation, provide care, and bring the Israelis home. Most of the survivors are young adults in their 20s and 30s, who were on vacation treks in the Himalayas. They were caught off-guard by a freak blizzard that has claimed the lives of over 40 people. Those who have returned are suffering from various degrees of frostbite that will require delicate and lengthy treatment.
Fatal, a certified public accountant and the oldest of five children, related his story in spurts from his Hadassah hospital bed. He admits that he is far from over the life-threatening trauma. He had wanted to take a vacation over the holidays when it wasn't tax season. The weather in Nepal is usually sunny and mild in October. In good physical shape, Fatal serves in the Israel Defense Forces infantry reserves. A trek seemed like the perfect break from tax calculations.
At five a.m. last Tuesday, he and some 30 other Israelis–the trek on Annapurna is a favorite of young adult Israelis–were gathered to hike up to Northern Nepal's Thorung La pass, the highest point at 17,770 feet (5,416 meters) in elevation on the Annapurna hiking circuit.
"A couple of inches of snow had fallen, and we wondered if we should go up," he said. "The local guides have vast experience and shrugged off the snow. 'No big deal,' they said. But they were wrong."
As they hiked, some with horses, most on foot, the tail end of a dying cyclone, which had just ravaged the east coast of India, reached Annapurna. A freak blizzard descended on the hikers.
"You couldn't see a meter (three feet) ahead of you," said Fatal. "We took refuge in the only building–a flimsy hut that serves as a tea shop. We squeezed in, trying to keep each other warm. The greatest dilemma of our lives was whether or not to stay put or to try to go down the mountain. The overwhelming feeling was that if we didn't leave, this would be our grave. I wept. Please let's not go. But the voices prevailed that said we'd all go together and help each other.
"We started to go down the mountain. It didn't take long for me to lose my way. You couldn't see a thing and footsteps were covered in minutes. I fell into a pit, up to my knees in snow and I couldn't get out. There was no one to help me. Soon I was buried above my head. I kept my right hand free to dig an air passage so I didn't suffocate. I kept falling asleep. I told myself that if I was going to die, I would die. My hope was that the others had reached safety and would notice I was gone. I spent the whole night like that.
"At seven a.m., I heard voices. It was two Israelis. Medical students from Hadassah–Yakov and Ron. They pulled me out and took off my wet clothes. They put me in three sleeping bags and said they'd get help when they could. I know now that it took them eight hours of walking to get to a place where there was a signal for their phones. But they saved my life.
"Again, I kept falling asleep. A helicopter flew over me, but he must have assumed I was dead. I had another night alone in the snow. At last, a helicopter came back and I waved my arm. I was airlifted first to an army hospital and then to an American hospital. Then the most amazing thing happened: the Israeli doctors arrived and they took me home. I'm still overwhelmed. The staff at Hadassah has been wonderful. My right hand, that I ungloved to dig out the snow, is black and blistered from frostbite, but the experts at Hadassah assure me that I'll be okay."
Galei Tzahal, the popular army radio station, interviewed Fatal this morning and surprised him by putting one of his rescuers, Yakov Megreli, on the phone. He's still in Nepal, coming back soon to begin his next year in medical school. "I look forward to seeing you soon," said Fatal. "Right here at Hadassah."
From Israel to Nepal: Rescuing an Infant with a Heart Defect
Accompanying Prof. Rivkind to Nepal for a totally different reason was Dr. Julius Golender. A Hadassah pediatric cardiologist, he went to save the life of a two-week-old baby with a heart defect, born in Nepal to an Israeli couple. The baby was "hitching a ride" to Israel with the rescue mission.
Dr. Golender, age 43 and a father of five, was born in Latvia. He lives with his wife, Shlomit, a Hadassah nurse, in a Jordan Valley agricultural village. On Friday afternoon, he was playing soccer with his kids and missed a phone call. But the same caller kept ringing. After Friday night dinner at his in-laws' home, the call came through, asking him to fly to Katmandu to pick up a sick baby. Immediately. He knew this baby was only two weeks old and had a heart defect.
The flight was complex. To get to Katmandu, he had to fly in an unmarked plane to Amman, Jordan and then over countries not friendly to Israel. When he got there, after an eight-hour flight, he examined the infant girl and decided she was well enough to make the trip back. He had brought equipment with him to care for and monitor the baby on the flight.
The return flight was complicated by three problems: It was difficult to arrange a passport for the baby while Israeli offices were closed for the holidays; second, the airport in Katmandu closes at 5:30 p.m. every day for safety reasons and they were way past the deadline; and third, to fly over India, you need permission from the Indian army and the army officials were having a day off. They overcame those obstacles and finally the plane took off, with Prof. Rivkind and his seven patients and Dr. Golender with the baby and her parent.
"The baby was very good and was in no danger," said Dr. Golender."The survivors of the avalanche shared their traumatic experiences all the way home. No one slept."
Dr. Goldender has twin boys, aged eight. They were treated in the neonatal intensive care unit at Hadassah-Mount Scopus. When his Iraqi-born father-in-law, Ephraim Mansur, came to visit the new grandsons, he looked up at the building. "That's where my machine gun rested when we fought to protect Mount Scopus during the War of Independence," he said. "We've come a long way with Hadassah."
For more stories in the media about Hadassah's rescue mission to Nepal, please go to
http://www.jpost.com/Israel-News/Trauma-expert-Nepal-sites-not-prepared-for-emergencies-379253
http://www.israelnationalnews.com/News/Flash.aspx/306708#.VEVV2Wd0yUk
http://online.wsj.com/articles/sos-note-delivered-on-horseback-from-himalayas-helps-save-hundreds-of-lives-1413762224?tesla=y&mod=World_newsreel_7